​Hungary becomes 1st EU country to join China's Silk Road project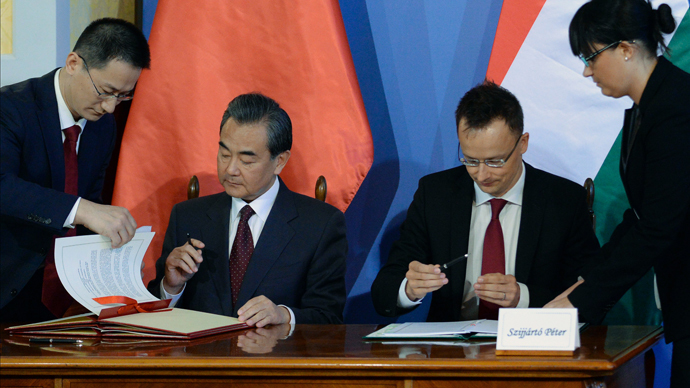 Hungary has become the first European country to join the Chinese 'Silk Road' project aimed to strengthen ties between Asia and Europe and develop trade and infrastructure in the region.
Foreign ministers of China and Hungary signed a memorandum of understanding for the New Silk Road, also known as the "One Belt, One Road" project in Budapest, the Chinese Foreign Ministry said in a statement published on its website late Saturday, Reuters reports.
READ MORE: Russia, China agree to integrate Eurasian Union, Silk Road, sign deals
In March, Chinese President Xi Jinping said he hoped the trade among all of the project's participants would exceed $2.5 trillion in a decade.
Hungary hopes to intensify cooperation with China that can speed up the construction of the Hungarian-Serbia railway and other infrastructure projects, said the country's President Janos Ader, as quoted by the Chinese foreign ministry. China is involved in financing and constructing a railway between Hungary and Serbia.
READ MORE: China to inject $62bn in policy banks to boost 'New Silk Road' - report
The Chinese government plans to inject dozens of billions of dollars to support the project that involves the construction of railways, highways, power grids, oil and gas pipelines, maritime and other infrastructure links across Central, West and South Asia to Europe, increasing the connection between the East and the West.
You can share this story on social media: