Russia 'never viewed Europe as a mistress' – Putin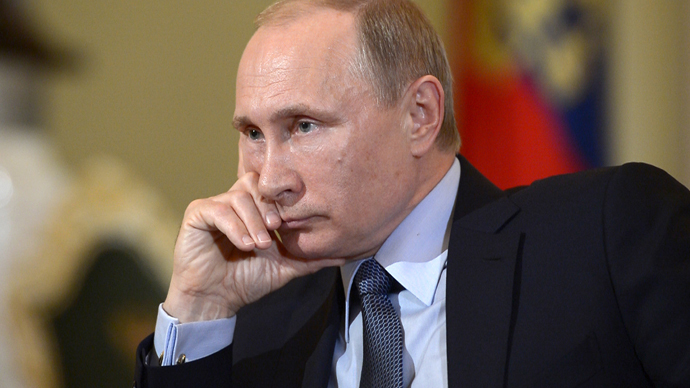 Russia has never sought a no-obligation kind of relationship with Europe, and has always called for a serious partnership, President Vladimir Putin said in an interview that touched on EU sanctions, energy disputes and severed business ties with Ukraine.
"We have never viewed Europe as a mistress," Putin told Il Corriere della Sera on the eve of his visit to Italy. "I am quite serious now. We have always proposed a serious relationship. But now I have the impression that Europe has actually been trying to establish material-based relations with us, and solely for its own gain."
Putin said the "deterioration in relations" between Moscow and the EU states was not Russia's fault.
"This was not our choice," Putin said. "It was dictated to us by our partners. It was not we who introduced restrictions on trade and economic activities. Rather, we were the target and we had to respond with retaliatory, protective measures."
READ MORE: 'Worst is over' - Putin on Russian economy
The Russian president recalled the "notorious" Third Energy Package and Brussels' denial of access for Russian nuclear energy products to the European market - despite all the existing agreements.
The EU is also reluctant to acknowledge the legitimacy of Russia's integration attempts on the territory of the former USSR, initially the Customs Union, which was later succeeded by the Eurasian Economic Union.
"It is all right when integration takes place in Europe, but if we do the same in the territory of the former Soviet Union, they try to explain it by Russia's desire to restore an empire," Putin said. "I don't understand the reasons for such an approach."
Read Vladimir Putin's Interview to the Italian newspaper Il Corriere della Sera http://t.co/faxIsMGWjxpic.twitter.com/dl3kYeirbS

— Russian Embassy, UK (@RussianEmbassy) June 6, 2015
Putin recalled that once it was French President Charles de Gaulle who first voiced the need to establish a
"common economic space stretching from Lisbon to Vladivostok."
"Today nobody objects to it, everybody says: yes, we should aspire to this," the Russian leader said, stressing that the reality sharply contrasts with the expectations.
READ MORE: Obama to urge G7 leaders to maintain Russia sanctions – while admitting they don't work
It has cost Russia billions to rearrange its energy system because Brussels insists that its new members, such as the three Baltic States (Estonia, Latvia and Lithuania), must join the European Union's energy system, whereas these territories have for decades been an integral part of the energy system of the Soviet Union, and later Russia.
Brussels explains that although "there are no problems," it was decided that it will "be better this way," whereas for Russia that means building additional generating capacities in western regions.
Because electricity transmission lines went through the Baltic States to Russia's territories in Europe and vice versa, the Baltic States cut-over plan and ensuring electricity supply to Russia's Kaliningrad exclave has cost Russia about €2 billion to €2.5 billion in practical terms, Putin said.
If a similar procedure is forced on the electricity infrastructure of Ukraine, Putin said, that would cost Russia another €8 billion to €10 billion.
"Why is this necessary if we believe in building a common economic space from Lisbon to Vladivostok?" said Putin, referring to the fear that the European Union's Eastern Partnership's aims not to integrate the whole former Soviet Union into a single space with Europe from Lisbon to Vladivostok, but to "cut something off," like Ukraine and Moldova, and establish a new border between modern Russia and western countries.
READ MORE: World Bank admits peak of Russia economic crisis over
In the interview, President Putin paid special attention to the Ukrainian economy, pointing out that although the European Union unilaterally removed its customs duties for Ukraine, the country's sales to the European market remain low because "there is nothing to sell," since there is no demand for Ukrainian products in Europe "either in terms of quality or price."
"We have a market for Ukraine, but many ties have been severed unilaterally by the Ukrainian side," the Russian president said.
"I don't understand why this was done," Putin said, adding that when he puts this question to his colleagues in Europe and the US, they say that the situation "has run out of control."
Still, despite the difficulties that the development of the Russian economy faces today, the country's agricultural sector has been "growing steadily" at a rate of 3.4 percent to 3.5 percent in 2014, Putin said.
"We pay significant attention to the development of agriculture in our country," Putin said, adding that the growth in the first quarter of the current year remains at the same level, at 3.4 percent.
"Russia is now the third-largest grain exporter in the world," Putin said, noting that last year Russia produced a record harvest of grain crops, at 105.3 million tons.
"Russia has an enormous potential in this sphere," the Russian president said, mentioning among the reasons for this the world's probably largest area of arable land and the biggest freshwater reserves, since Russia is the largest country on the planet.
The Russian president's itinerary for his visit to Italy includes attending the Russia Day at the Universal Exhibition EXPO 2015 in Milan, where the core theme of this year's exhibition is "Feeding the Planet, Energy for Life."
In this regard, Vladimir Putin said that, according to experts, the world's fast-growing population will reach 9 billion people by 2050.
Yet even today, according to the UN, 850 million people, including 100 million children, around the planet are undernourished or starving.
"There is no doubt that this is one of the key issues of our time," Putin said, noting that Russia's contribution to the UN programmes exceeds $200 million.