Russia's crude output at record high in May - Bloomberg
Published time: 2 Jun, 2015 16:40
Edited time: 2 Jun, 2015 16:59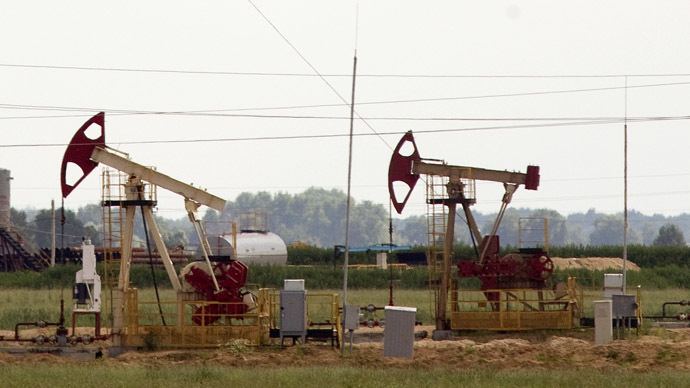 Russia's oil output was close to a post-Soviet high in May, at 10.708 million barrels a day, Bloomberg said, citing Russian Energy Ministry data. The report comes days before an OPEC meeting where top producers are expected to unveil their output policy.
Russia's May crude exports reached 5.06 million barrels a day, rising 1.95 percent from a year earlier while falling 5.7 percent from April, according to preliminary data from Russia's Energy Ministry, Bloomberg reported on Tuesday.
Last month's oil and gas condensate output of 10.708 neared the level of Soviet-era while in 1987 production peaked at 11.48 million barrels a day.
"Russian output has proven to be pretty resilient to the fall in prices, and they will not have a problem keeping production up for the next year or two," James Henderson, a researcher of the Russian oil industry at the Oxford Institute for Energy Studies, was cited as saying by Bloomberg.
Production increased due to condensate output from Russian oil and gas company SeverEnergia. Russia's largest gas producer, Novatek, also launched its joint project with France's Total in May, the output of which is expected at 800,000 metric tons of condensate this month.
READ MORE: OPEC says global oil glut to persist till 2017 - media
Russia's oil production continued to grow even despite the Western sanctions on the industry imposed over the crisis in Ukraine.
The world's largest oil producing group, OPEC is meeting in Vienna on June 5 where it's expected to make a decision on production quotas. In its draft report OPEC predicted the global oil glut will persist till 2017, giving an optimistic forecast first time in 25 years for non-OPEC oil supply.
Analysts say OPEC will not cut its output as it did once back in November. Aiming to protect its market share, the group of 12 Gulf State oil producing nations then decided to keep production high despite the price collapse.
Oil prices, that almost halved from last year's $115 a barrel, have rallied strongly to around $68 per barrel since the beginning of 2015.
Brent futures for July were up 55 cents at $65.43 a barrel on Tuesday trading. US West Texas Intermediate (WTI) crude rose 72 cents to $60.92.