​Russia-Ukraine trade shrinks 64%
Published time: 27 May, 2015 09:37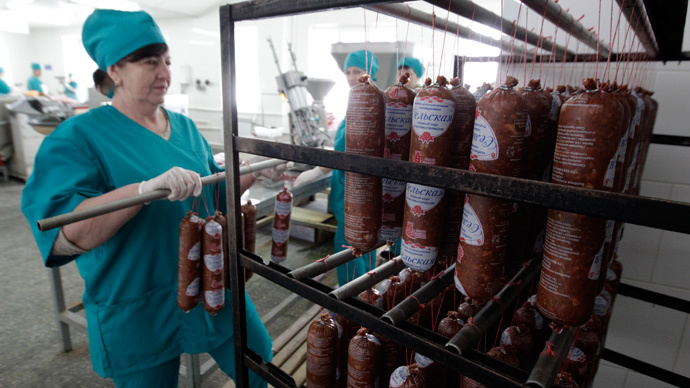 The first four months of 2015 showed a 64 percent fall in Russian-Ukrainian bilateral trade, according to a World Trade Center (WTC) Moscow report. Some spheres of cooperation were totally devastated.
Russian exports to Ukraine in January-April 2015 in monetary terms amounted to $2.964 billion compared to $8.123 billion in the same period last year,saidthe report prepared for RBC published Wednesday.
Imports reached $1.608 billion, compared to $4.031 billion in January-April last year.
"Industrial and technological cooperation is almost ruined: trade turnover of machinery and equipment fell by 42.4 percent," said the report.
Experts are unsure about the future of neighboring countries' trade relations.
"We expect a sharp decline in 2015. Turning point is possible only in 2017-2018," director of the Russian Market Research Institute Andrey Spartak said in a contribution to WTC's report, adding that the loss of Ukraine as a trade partner remains the main risk for Russia's foreign trade.
Aleksandr Knobel, laboratory chief at Russia's Gaidar Institute for Economic Policy disagreed with Spartak, saying that all the worst has already happened.
"If we look at the past few months, the situation has not deteriorated since August last year. There was a sharp fall and since then the turnover is at 40 percent of what it was prior to the beginning of all those events," said Knobel.
It is possible for Russia to compensate lost import and export as Ukraine doesn't produce anything exclusive except for a few positions, even though the quality-to-price ratio of Ukrainian imports - especially food, pharmaceuticals and steel pipes - was effective, he added.
Russia-Ukraine relations deteriorated in 2014 after Crimea rejoined Russia in March 2014 and the beginning of the conflict in southeastern Ukraine escalated the crisis.
Kiev accuses Moscow of invading Ukraine since the start of the struggle, with support for rebel forces of the self-proclaimed Donetsk and Lugansk People's Republics. Russia denies all the accusations.