Russia faces growing aggression from global arms producers – Putin
Published time: 25 May, 2015 17:28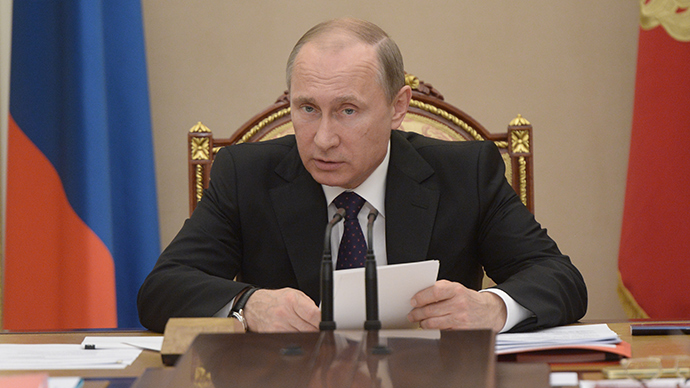 Russia is facing increasing and aggressive resistance from other countries in the arms trade, Russian President Vladimir Putin said.
He called on Russian manufacturers to deepen military and technical collaboration with the country's allies and strategic partners.
"Of course, we have to work in a complex situation," Putin said during a meeting of the Commission for Military and Technical Cooperation on Monday, according to Tass. "We're confronted ever more frequently with the attempt of direct counteraction and sometimes these attempts go beyond the framework of competitive struggle and are of an openly aggressive nature. And perhaps political instruments are also used as camouflaged means of competitive struggle."
The president urged Russian firms to consistently implement import substitution programs in the defense sector. He also called for Russia to enter new markets.
"Russia undoubtedly needs to move forward, use higher standards, develop a new generation of armaments and military hardware, and prepare a worthy replacement for high-class specialists and strengthen its positions on global markets," Putin said.
READ MORE: US and Russia remain world's biggest arms exporters – study
Russia's weapons exports amounted to $15.5 billion in 2014, and have remained steadily at that level over the past three years, Putin said. The country holds a "solid second place" among the world's leading producers in arms deliveries and military equipment, he said.
This is a serious achievement in such a complex and dynamically developing market, the president said. The United States is leading in the global arms market with its 31 percent share, while Russia holds 27 percent, and other market participants are "noticeably behind," Putin said.
In 2014 Russia signed new contracts worth $14 billion, while the export order portfolio for Russia's arms industry is stable and currently stands at over $50 billion.