'Can't Pay, Won't Pay': Greece has no money to make IMF payment, interior minister says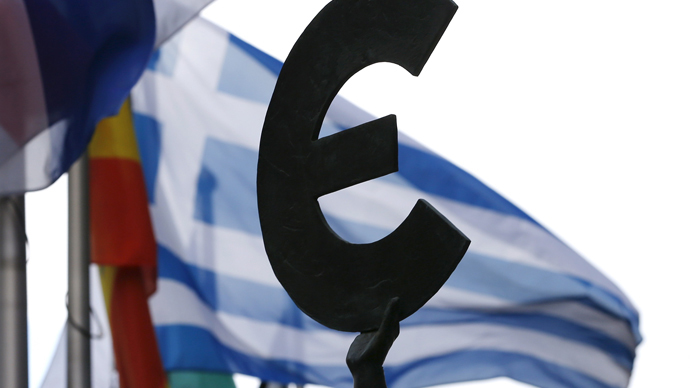 Greece will not be able to make next tranche of debt repayment to the International Monetary Fund (IMF), as the country has no money to pay, the Interior Minister said.
"The four installments for the IMF in June are 1.6 billion euros ($1.8 billion), this money will not be given and is not there to be given," Nikos Voutsis told Greek Mega TV's weekend show on Sunday.
Asked about the timing of talks on repayment, Voutsis said that they may be extended until the end of June or early July.
His statement comes as Greek Finance Minister Yanis Varoufakis said that Athens have made "enormous strides" at reaching a deal with its international creditors.
"It is now up to the institutions to do their bit. We have met them three-quarters of the way, they need to meet us one-quarter of the way," he told the BBC's Andrew Marr show on Sunday.
According to Varoufakis, it would be "catastrophic" if Greece left the euro, saying that it would be "the beginning of the end of the common currency project."
READ MORE: Greece may fail to make next IMF debt repayment – Syriza spokesman
On Thursday, a spokesman for the left-wing Syriza party said that Greece won't be able to pay the next tranche of 300 million euros to the IMF on June 5 unless it receives extra financial aid from creditors.
"Now is the moment that negotiations are coming to a head. Now is the moment of truth, on June 5," Nikos Filis, spokesman for Syriza party lawmakers, told ANT1 TV channel. "If there is no deal by then that will address the current funding problem, they won't get any money."
READ MORE: Greece claims deal with Troika in 10 days
Greece is struggling to repay its multibillion euro debt to the troika of international lenders – the IMF, the ECB and the European Commission, and is trying to find a way to get a further €7.2 billion bailout unlocked.
Talks between Athens and its international lenders reached a stalemate over refusal of Greek authorities to carry out labor and pension reforms, as well as to lower fiscal targets established within the framework of the bailout program.
However, Athens has made a number of concessions, including the imposition of a special tax on bank transactions to help raise revenue.
On Wednesday, Varoufakis told Britain's Channel 4 that if Greece fails to reach negotiations with lenders, the government will have to give pensioners and public sector workers priority.
"If we can, on June 5, repay the IMF and pay pensions and salaries as well as the other obligations we have to our internal creditors, we shall. If not, we will have to prioritise pensioners and public sector workers," he said.
On May 11, Athens began repaying some €750 million in debt interest to its creditors, just days before the deadline.
You can share this story on social media: