Putin says Ukraine's statement on default unprofessional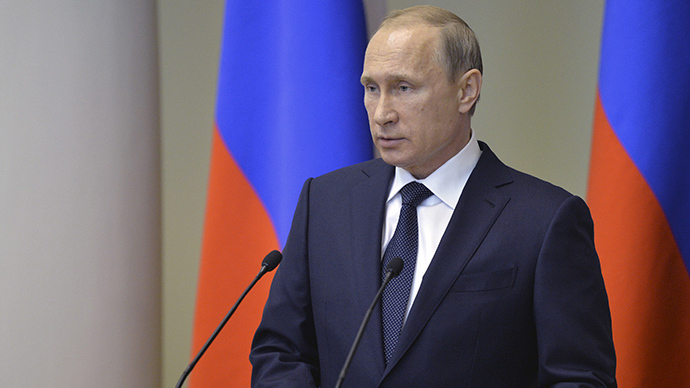 Ukraine's statement regarding a possible default is a consequence of Kiev's low level of professionalism, said Russian President Vladimir Putin, ordering the Finance Ministry to sort out the issue of Ukraine's debt to Russia.
"The announcement of the upcoming default shows a level of responsibility and professionalism which is apparently not high," Putin said at a meeting with members of the government.
"As far as I understand, the IMF [International Monetary Fund] doesn't provide any loans to countries that are in a situation of default or bankruptcy," he added addressing Finance Minister Anton Siluanov, requesting that he hold consultations on Ukraine's debt to the Russian Federation.
According to the conditions of the loan, Russia is already within its rights to demand early repayment of Ukraine's debt, but has not done so at the request of Kiev and the IMF, Putin said, adding that Russian banks have issued around $25 billion in loans to Ukrainian creditors.
READ MORE: Ukraine passes bill allowing moratorium on foreign debt payments
"We have long had the right to request an early repayment of these funds, bearing in mind that under the terms of our agreement signed according to European law, there is a right to demand early repayment if the total public debt of Ukraine exceeds 60 percent," he said. "However, at the request of our Ukrainian partners and the IMF, we do not exercise this right. We do not want to aggravate the economic situation of our partners and neighbors, which is already complicated," he concluded.
The Finance Ministry hasn't yet noted any violations of the terms of the loan agreement with Ukraine, but if they appear, Russia is ready to resolve the issue in court, Siluanov said.
"Until now, Ukraine has fulfilled all its obligations on debt service. The last payment was made in February this year; the next payment in the amount of $75 million is due on June 20. There have been no violations of the agreement, except for covenants," he said.
READ MORE: Russia to take legal moves if Ukraine defaults on $3bn debt - finance minister
"If we see a violation of the commitments that Ukraine took upon itself when we invested our resources in the bonds of its government, we will request a judicial procedure in order to protect our interests," he concluded.
On May 19, the Ukrainian government adopted a law, valid until 1 July 2016, which gives it the power to declare a moratorium on some loan repayments. The country's prime minister, Arseny Yatsenyuk, said that suspension of payments will only be applicable to private loans. However, Ukraine continues to consider its $3 billion debt to Russia private, a position that Moscow completely refutes.