Deutsche Bank prepares game plan for 'Brexit' scenario - media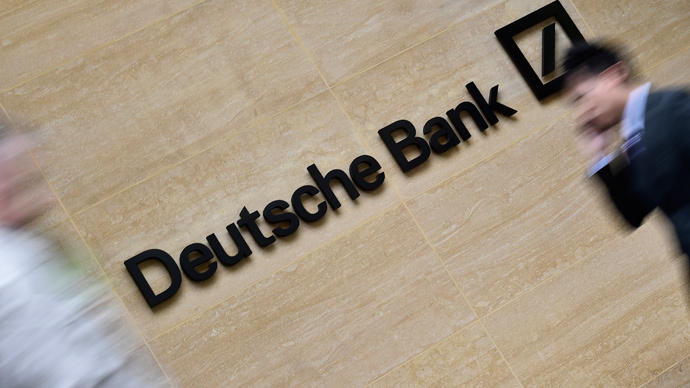 Germany's Deutsche Bank has reportedly formed a working group to assess the consequences of a possible UK exit from the European Union. Britain is expected to hold an in/out referendum after the Conservative victory in the 2015 general election.
"The working group will do scenario-based planning on implications on our presence in the UK, including whether it would be advantageous for certain activities to be repatriated to the eurozone, specifically to Germany," a Deutsche Bank spokesperson has been quoted as saying on Tuesday in an email to CNBC.
READ MORE: EU referendum looms as Conservatives win majority
The working group, which includes senior executives across the bank's divisions, is at early stage, with no decisions made so far, the spokesperson said.
Deutsche Bank, the second biggest bank in the eurozone, has operated in Britain since 1873. It has offices in 16 locations and employs around 9,000 people.
Deutsche Bank is the first big bank to start formally examining the consequences of a British referendum on EU membership, according to the Financial Times. Earlier in April, Britain's largest bank HSBC revealed it was considering moving its headquarters away from London due to "regulatory and structural reforms" since the financial crisis. Top business leaders have also warned the British government about the potential loss of confidence and fallout effect in case of a 'Brexit'.
READ MORE:Home rule for Britain? Tory backbenchers pressure Cameron on Brexit referendum
A referendum on Britain's EU membership was part of the election campaign of the re-elected Prime Minister David Cameron. He is expected to introduce legislation for an in/out vote within the first 100 days of the parliament.
Cameron has called for reform of the UK's membership and a number of concessions, such as freedom of movement to curb benefits migration. The Conservatives wish to crack down on European migrants settling in the UK to take advantage of the benefits system.
The financial services sector is one of the most important in the UK; it contributes around 8 percent of the country's GDP and provides about 1.1 million workers with jobs.
You can share this story on social media: