Ruble at 2-wk low against US Dollar, as Central Bank interferes
Published time: 21 Apr, 2015 15:09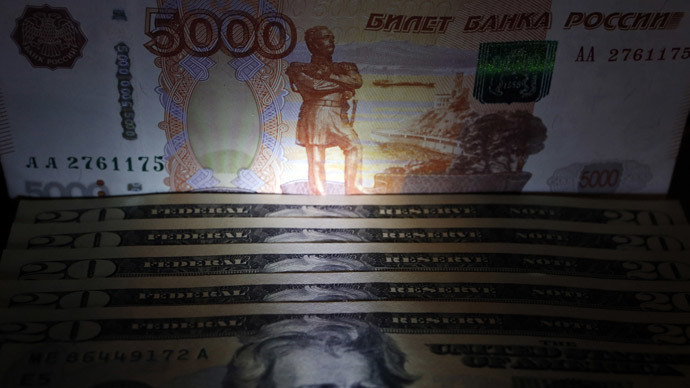 The Russian ruble fell for a third consecutive day, extending losses from Monday when the Central Bank announced it would raise the rate for foreign-currency loans to banks. The Bank is trying to curb the 15 percent the currency has gained this year.
On Monday, the Bank of Russia said it will increase the one-year foreign currency repurchase agreement (repo) to the London Interbank Offered Rate (Libor) plus 2.5 percent. Before the hike, the bank's repo rate was 1.75 percent plus Libor.
The ruble lost 1.3 percent at the opening Tuesday, trading at 54.03 to the dollar at 11:55am in Moscow, a near 10 percent drop from where the ruble traded at on Thursday at 48.84; the first time it broke the 50 threshold since November.
Against the euro, the ruble lost 0.8 percent at 11:35am Moscow time at 57.69. The currency began to lose momentum Friday, when it nosedived 5 percent.
Despite the drastic loss in the last few days, the ruble is still up 12 percent since the beginning of the year, when it opened at 58.84 per dollar.
Lower oil prices also pushed the ruble to weaker trading levels, with Brent trading down 1 percent at $63.1 per barrel at the time of publication.
The ruble may lose more of its value leading up to the Central Bank meeting on April 30, when it is expected to cut the ruble lending rate.
READ MORE: Ruble 'miracle' pushes 2015 gains to 15%
The ruble has been slowly finding its equilibrium after the Central Bank of Russia began to cut interest rates in 2015 after a surprise hike to 17 percent in December when the currency crisis hit. The main lending rate is now down to 14 percent.
The ruble-denominated MICEX Index increased 0.93 percent to 1,699.16 at 2:45pm in Moscow, led by gains in Gazprom, Lukoil, and VTB. The dollar-based RTS index was also up 0.33 percent to 998.70.