BRICS Development Bank won't rival China-led AIIB, but complement – CBR head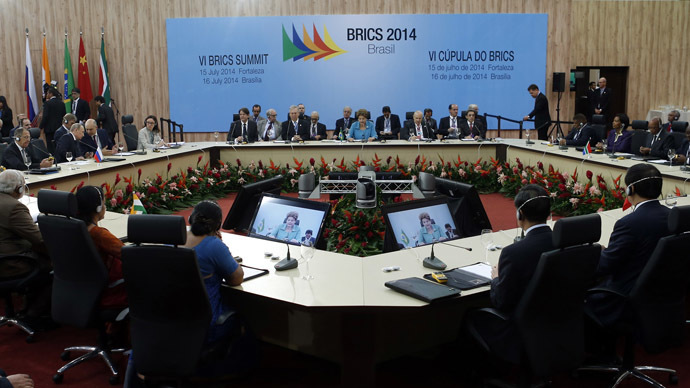 The BRICS New Development Bank and the Asian Infrastructure Investment Bank (AIIB), both seen as alternatives to US – led institutions, will not compete, but rather complement each other, said the head of the Central Bank of Russia Elvira Nabiullina.
Nabiullina made the statement Thursday in Washington where she is attending the spring meetings of the International Monetary Fund and World Bank.
"I don't think there's less energy (around the BRICS bank). We didn't feel that. To the contrary, all the representatives of all the countries ... were very motivated to reach speedy practical results," she said.
READ MORE: $50bn Asian infrastructure bank approves 57 founding members
Both development institutions have been gaining popularity and are seen as a counterbalance to the IMF and World Bank. President Obama has reacted insisting the US should make the rules for the global economy, and not China. The US and Japan have not applied for the membership in either of the new development banks.
Also in Washington Russia's Finance Minister Anton Siluanov said that the BRICS New Development Bank will be launched before the BRICS summit in Ufa scheduled for July 9-10.
"We discussed a legal framework for this bank, agreed that by that time [July BRICS summit – Ed.] all of the countries should ratify agreements to set up the Bank," Siluanov said.
READ MORE: Putin signs law on ratification of $100 billion BRICS New Development Bank deal
The BRICS development bank will start with Russia, Brazil, India, China and South Africa, and was first proposed in 2012. The Bank will be open to other members of the United Nations, the Russian Finance Ministry said in March.
Each of the five-member countries is expected to allocate an equal share of the $50 billion startup capital, which will be expanded to $100 billion. Russia has agreed to provide $2 billion from the federal budget for the bank over the next seven years. The money will be used to finance development projects in emerging economies. India will serve as the first five-year rotating president, and the first Chairman of the Board will be Brazilian.
The Asian Bank for Infrastructure Investment (AIIB), established in 2014 by China, will finance infrastructure projects like the construction of roads, railways, airports in the Asia-Pacific Region. Its headquarters will be in Beijing. The initial subscribed capital of AIIB will be $50 billion and is planned to be increased to $100 billion.