Crude hits 4-month high on EIA inventory report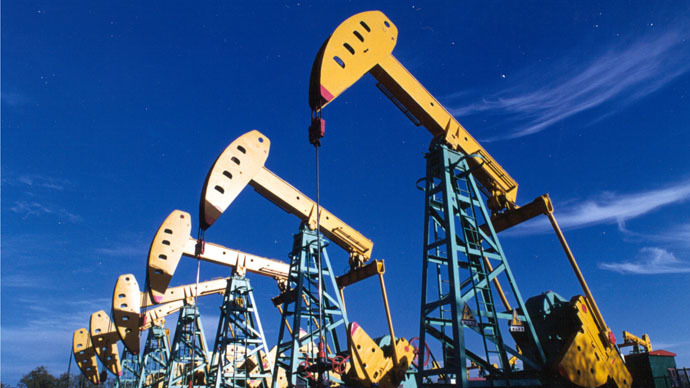 WTI surged above $55 a barrel and Brent is nearing $60 a barrel after the US crude oil inventories showed a less-than-expected increase. The latest weekly inventory only rose by 1.3 million barrels, and not the 4.1 million barrels expected.
The 1.3 billion barrel increase in the week that ended April 10 was a much smaller gain than the previous week's 10.9 million barrels, the EIA's inventory report, published Wednesday, said.
West Texas Intermediate oil futures for May shot up 3.36 percent to $55.08 on New York Markets, and Brent, the European index, gained 2.34 percent, reaching $59.80 per barrel at 10:40am EST. Increased fighting in Yemen also bumped up prices of both benchmarks.
READ MORE: US Shale oil production may have maxed out - EIA
The report also showed that total motor gasoline inventories decreased by 2.1 million barrels, compared to expectations for a drop of 0.2 million, while distillate stockpiles rose by 2.0 million barrels.
The US oil industry is starting to feel the pinch of lower oil prices, which have caused several domestic drillers to mothball rigs. On Tuesday, an EIA report predicted a slowdown of shale drilling in the Bakken and Eagle Ford shale fields in April.
Production in the Bakken field in North Dakota dropped 23,000 barrels per day and production from Eagle Ford in Texas, the second-largest oil field in the US, is expected to fall 33,000 barrels per day.
As of last week, total US crude oil inventories stood at 483.7 million barrels, an 80-year high.