​Greece pays off €448mn in debt to IMF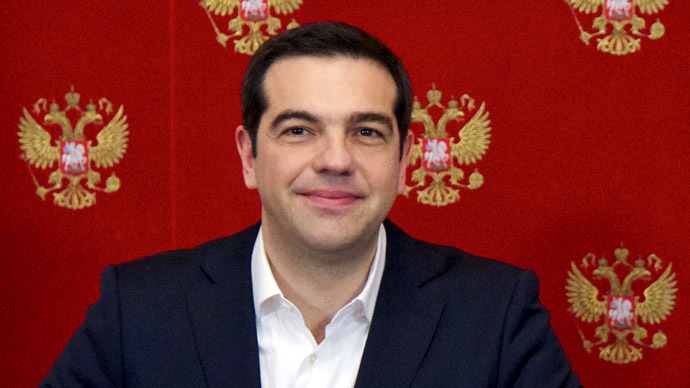 Greece has so met the deadline and transferred €448 million to the International Monetary Fund calming fears Athens could soon leave the euro.
"The tranche of €448 million has been delivered to the IMF," said the Greek news agency ANA referring to senior sources in the Greek Finance Ministry. The money was transferred despite rumors the country would not manage to do it on time, which could push the country out of the eurozone.
The payment comes as Prime Minister Alexis Tsipras is in Moscow on a two-day official visit. On Thursday, he said the main objective of the Greek government is to keep the country in the eurozone and to find a common European solution to its financial problems.
"The purpose of our government is that Greece remained in the eurozone, we are looking for a common European solution to this [debt restructuring – Ed.] problem," Tsipras said, speaking to students at the Moscow State Institute for International Affairs.
Watch Live--Discussion with Russian students at Moscow State Institute of International Relations http://t.co/7cn535asmH#Greece

— Alexis Tsipras (@tsipras_eu) April 9, 2015
Eurozone deputy finance ministers have set a six-day deadline for Athens to revise reform proposals in order to increase the possibility of unlocking bailout aid at a Eurogroup meeting on April 24, Greek newspaper Ekathimerini reported on Thursday.
READ MORE: Greece hasn't asked Russia for bailout – Putin
"A deadline of six working days was given to the Greek side to present proposals that can be acceptable by creditors," the paper said.
Athens has already submitted a 26-page reform list criticized by the IMF and the EU negotiators for being too vague and the measures not concrete enough.
Having paid off €448 million in debt to the IMF, Greece has another €768 million falling due in May. Should Greece manages to fulfill these obligations, and the EU approves the reforms proposed by Finance Minister Yanis Varoufakis, the Troika of international creditors represented by the IMF, the European Central Bank, and the European Commission, is expected to allocate the next €7.2 billion in aid to Athens and negotiate the restructuring of its external debt by June.
You can share this story on social media: