​Former Russian banker in London wins £3.2mn claim against Sberbank for bullying
Published time: 8 Apr, 2015 15:21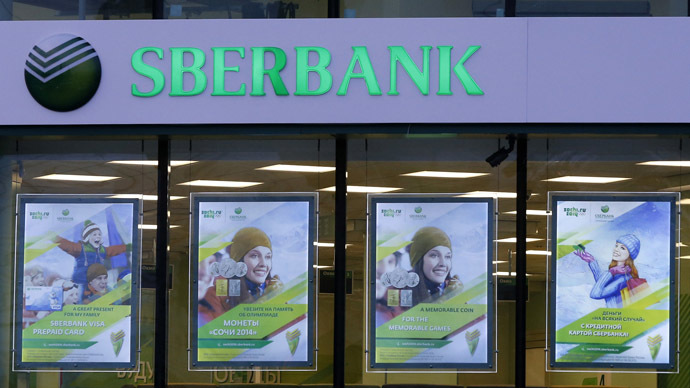 Russian Svetlana Lokhova has won £3.2 million ($4.7 million) damages from an employment tribunal for harassment by colleagues at the London offices of Sberbank CIB.
The Central London Employment Tribunal said the 33-year-old Russian woman experienced "deliberate attempts" to pressure her by her colleagues in the London office of the investment division of Russia's Sberbank, reports The Times. Lokhova was awarded £3.14 million for lost earnings, £44,000 for hurt feelings and £15,000 in aggravated damages by the panel.
The tribunal found Lokhova was able to prove that during three years at Sberbank CIB she suffered bullying and discrimination, being called crazy and wrongly accused of using cocaine by her boss David Longmuir.
Male colleagues called Lokhova "crazy Svetlana", "Miss Cokehead", "bitch" and "Miss Dodgy Septum," and also joked about her being a drug addict. She said the front office and her colleagues addressed her with obscene words in conversation with senior people and clients, so she was forced to leave her job with an annual income of £750,000. Persistent harassment at work brought Lokhova to a nervous breakdown. In January 2012, she went on vacation and never returned to work.
"My job was made impossible. This persistent unlawful treatment has had a seriously detrimental effect on my health, with severe and long-term consequences," said Lokhova as quoted by Daily Mail. "I am completely broken down and exhausted by the bank's campaign against me."
Lokhova joined Sberbank, Russia's biggest lender, in 2008 in a position with a salary of £80,000 a year and bonuses which eventually reached more than £750,000 a year. At one point she was awarded a £600,000 cash bonus after generating millions in profits.
When Lokhova sued the bank over the false allegation that she was a drug user, a public hearing only made the situation worse, as her former colleagues made false accusations about her alleged drug addiction during the proceedings.
The ruling states that the allegations made against her in the court were unfounded and were used to put pressure on her, since it was obvious that these statements would be reported in the press. Lokhova took a drug test during the hearing, and the result was negative.
Lokhova says she is unable to return to banking, although she loved her job and enjoyed considerable success.
"Everybody knows everybody's business in banking and people believe there is no smoke without fire. My reputation has been shredded."
Her former boss David Longmuir no longer works at Sberbank CIB. He resigned in 2014 as part of a mutual agreement, BBC reports. Longmuir admitted that he really addressed Lokhova in an inappropriate manner, explaining his behavior as personal enmity and not by gender discrimination.
Sberbank CIB is a corporate and investment banking subsidiary of Sberbank, which was created by integrating Sberbank of Russia and the Troika Dialog Investment Company.
Sberbank has said it is committed to take on board any lessons to be learned.