Fitch downgrades Greece's rating to 'CCC'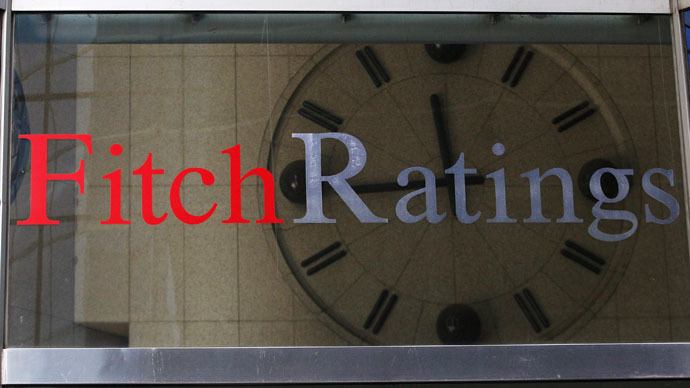 International ratings agency Fitch has downgraded Greece's sovereign rating from B to CCC ahead of the agency's next scheduled review, amid worries that the country is defaulting on its sovereign debt.
Fitch also downgraded Greece's short-term foreign currency issuer default rating (IDR) from B to C, the agency said in a press release on Friday. The ratings agency revised the country's ceiling as well, lowering it from BB to B-.

The downgrades came earlier than the scheduled review on Greece which was scheduled for May 15. The agency explained that "developments in Greece warrant such a deviation from the calendar."

Fitch cited several key ratings drivers, stating that a "lack of market access, uncertain prospects of timely disbursement from official institutions and tight liquidity conditions in the domestic banking sector have put extreme pressure on Greek government funding."

"We expect that the government will survive the current liquidity squeeze without running arrears on debt obligations, but the heightened risks have led us to downgrade the ratings. The damage to investor, consumer, and depositor confidence has almost certainly derailed Greece's incipient economic recovery," the agency said.
READ MORE: Germany wants Greece in eurozone, but demands more reforms
Fitch also revised the country's growth forecast to 0.5 percent – down from 1.5 percent in January 2015 and 2.5 percent in December 2014. It added that the liquidity conditions faced by firms have worsened substantially due to "increased government arrears to suppliers and bank funding strains."

Greece received two bailouts from the EU in 2010 and 2014, totaling €240 billion (US$261 billion). Following austerity measures, Greece saw its economy lose a quarter of its value.

In February, Athens and eurozone finance ministers struck a deal to extend the Greek bailout by another four months, with the newly-formed Greek government agreeing to present a list of structural reforms and to fulfill its obligations to repay the existing debt.

In March, Greece's Prime Minister Alexis Tsipras and European leaders held talks on the EU-IMF bailout. Following the meeting, the European Commission made $2 billion in unused funds available to Greece to help the country avert bankruptcy.
You can share this story on social media: