Biggest Nasdaq slump in 11 months as biotechs threaten new bubble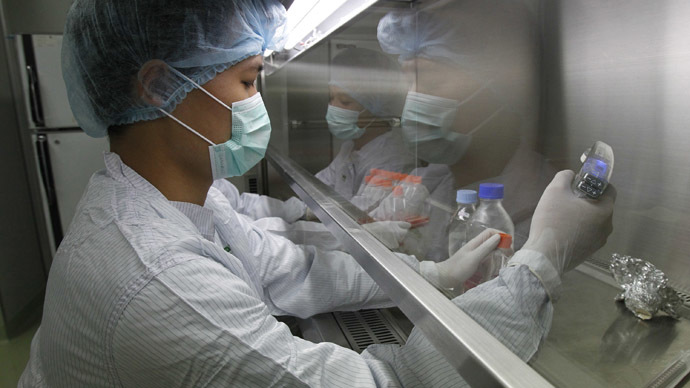 The dramatic 3-year 240 percent surge in biotech, which had raised valuation concerns and fear of a new Nasdaq bubble, has cooled down. Nasdaq on Thursday continued to fall after its Wednesday steepest one-day decline, over fears stocks were overpriced.
Nasdaq futures plunged 46 points at a Thursday opening after the previous day's 118-point slide. Some market watchers have warned that biotech shares have enjoyed a great run-up, and that companies in the sector have become overvalued. On Thursday futures for the Dow Jones Industrial Average slid to 17,699 while S&P 500 dropped 0.17 percent to 2,058.
The bubble is popping: Nasdaq Biotech ($IBB) 3 days drop is the largest in 1 year $IBB#bubble#biotechpic.twitter.com/plloDbVYYj

— Tim Martyn (@investazy) March 26, 2015
Biotech stocks grew faster than any other sector in the US, with the capitalization of shares in the Nasdaq Biotechnology Index up about 240 percent since the beginning of 2012, the Wall Street Journal reported.
The rise outstrips the 82 percent gain in the Nasdaq-100 index of the largest technology companies listed on the exchange. The top companies in the biotech sector Gilead Sciences, Amgen, Biogen and Celgen, have each gained tens of billions of dollars in market cap over the past year.
"If any part of the market reminds me of the go-go tech years, its biotech," chief investment officer at BMO Private Bank Jack Ablin told the Wall Street Journal.
Nasdaq biotech shares have advanced 27.4 percent over the past six months and roughly 17 percent so far this year, compared with gains of 7.3 percent for the Nasdaq-100 over the past six months and 1.4 percent this year. The biotech sector also accounted for about 25 percent of US-listed IPOs in 2014.
In 2000 when the Nasdaq Composite Index set its record close of 5048.62, the biotech sector wasn't so developed, which raises fears that companies in the sector have become overvalued.
Biotech stocks are a high risk for investors as they depend on various factors such as drug trial decisions and running out of funding. The sector stocks are focused on new therapies and innovations and are notorious for their risk which often sparks investor enthusiasm. Shares of biotech companies waiting for new drugs to be approved are the most popular.
"To us, shares of biotech companies find themselves entering bubble territory," Darren Pollock, portfolio manager at Cheviot Value Management, was cited as saying by the WSJ. "We think investors are applying too high a success rate on biotech molecules."
Some analysts suggest the excitement surrounding the biotech sector's success is the latest sign that low interest rates are encouraging investor to take excessive risks. However, if the economy slows or rates start climbing, investors could turn more conservative towards the pharmaceutical companies.