China's manufacturing PMI falls to 11-month low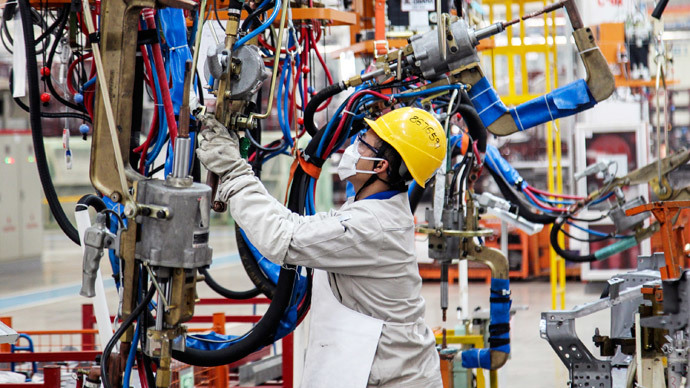 The Chinese economy is showing further signs of a slowdown with the indicator of manufacturing activity, the purchasing managers' index (PMI), dropping to an 11-month low in March.
The HSBC Flash China Manufacturing PMI for March fell to 49.2, compared with 50.7 in February, according to the survey by HSBC and financial data provider Markit, published on Tuesday. March figure slipped below the 50 level which separates expansion from contraction compared with the previous month when PMI climbed to its strongest level since July.
READ MORE: China manufacturing PMI hits 4-month high in February but exports dive
The weaker than expected Chinese PMI shows employment and prices are all softening in the manufacturing sector and suggests the 2014 fourth-quarter weakness in the world's second largest economy is extending into the beginning of the new year.
"The HSBC Flash China Manufacturing PMI signaled a slight deterioration in the health of China's manufacturing sector in March. A renewed fall in total new business contributed to a weaker expansion of output, while companies continued to trim their workforce numbers", Annabel Fiddes, economist at Markit said commenting on the survey.

Manufacturing companies continued to benefit from falling input costs, stemming from the recent global oil price decline, she added. Relatively muted client demand has led firms to pass on savings in a bid to boost new orders, and cut their selling prices at a similarly sharp rate, according to Fiddes.
With both output and input prices continuing to fall, industrial deflation is expected to worsen. While weaker factory activity will put pressure on decision makers to step up their efforts to boost economic growth.
The central bank will likely bolster growth by cutting interest rates once this year and lower the proportion of reserves banks are required to maintain, an economist with China International Capital Corp. Bob Liu, told the Wall Street Journal.
READ MORE: China cuts economic growth target to 7%, lowest in 25 years
Earlier in March, China's Central Bank cut its benchmark lending and deposit rates by a quarter of a percent, which sparked a brief rebound in metals prices. However, prices have fallen back after the Chinese government said it expected the economy to grow by about 7 percent in 2015 compared to a 7.5 percent target last year. Data released for the early part of this year suggests Chinese demand is already weakening.
Asian stocks turned mixed Tuesday over China's lower than expected Flash PMI reading. The Hang Seng China Enterprises Index dropped 1.4 percent. The Shanghai Composite Index ended slightly higher, gaining for a tenth straight day in a rally that has pushed major Chinese indexes to their highest levels in nearly 7 years. Japan's Nikkei stock average slipped 0.2 percent, pulling away from the previous session's 15-year highs.
The Flash PMI report is based on about 90 percent of responses to surveys sent to more than 420 manufacturers. Final PMI data on March will be released on April 1, 2015.