Russia to help Cyprus overcome crisis aftermath – Putin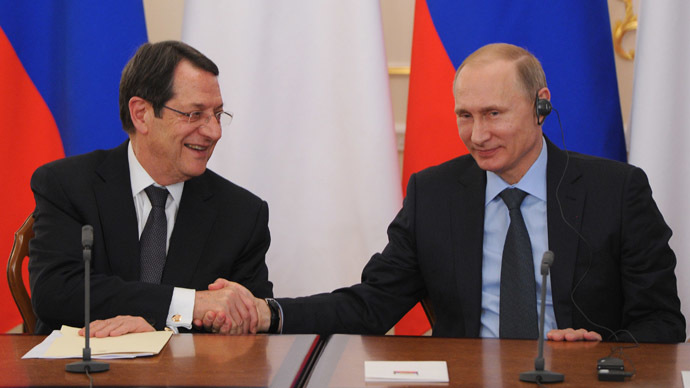 Russia will continue to help Cyprus to gets over its debt crisis said President Putin after talks with Cyprus President Nicos Anastasiades in the Kremlin. Moscow has already provided the country with a €2.5 billion loan.
"Russia will continue to provide assistance to Cyprus in liquidating the aftermath of the debt crisis," Vladimir Putin said. Russia has already given Cyprus a €2.5 billion stabilization loan on favorable terms, the president added.
READ MORE: Russian sanctions create broader problems for entire EU – Cyprus president
Russia's VTB Capital investment bank and the Cyprus Finance Ministry successfully placed Cypriot sovereign Eurobonds worth €750 million for the first time since the crisis, Putin said. "We think that consequently Russia has contributed and continues to contribute to the normalization of the situation in the eurozone after the difficult 2011-2012 period," the President commented.
Cyprus plunged into economic crisis in 2012 as the financial downturn in Greece spread to Cypriot banks and forced large account holders to accept reductions in the value of their deposits.
Russia has invested $33 billion in Cyprus, which is more than 80 percent of all foreign investment in the country, the Russian President said. Cyprus has invested $65 billion in the Russian economy.
The two sides expressed their confidence that joint efforts can boost mutual trade.Trade between the two countries declined in 2014, mainly due to the downturn in oil prices, the EU sanctions against Russia and Russia's response, according to the Russian President.
However, he is certain "joint consistent efforts would help in mending of the situation and returning bilateral trade to the growth path."
EU sanctions against Russia have complicated the economic situation in many European countries and would create wider problems for the whole European Union, President Nicos Anastasiades told TASS on Tuesday.
Overall Russia and Cyprus signed 9 deals that included a memorandum of understanding between the Russian Central Bank and the Cyprus securities and exchange commission, as well as cooperation deal with Russian investment agency 'Invest in Russia!' and the Cyprus Investment Promotion Agency.
Other areas of agreement included cooperation in defense, science and technology, education, culture, as well fighting the illegal drug trade.
You can share this story on social media: