China wants to create its own ExxonMobil - media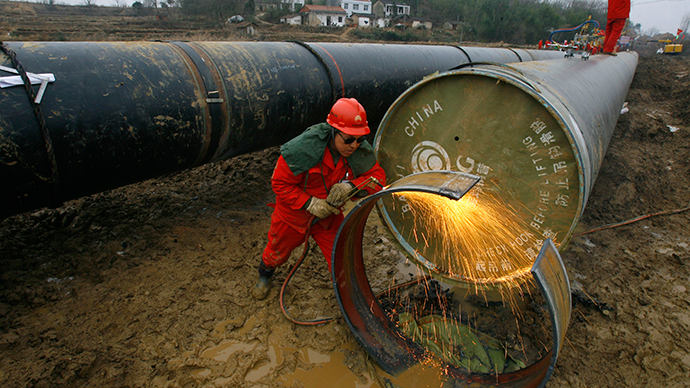 China is reportedly considering ways to merge its state-owned oil companies to better compete globally as oil prices fall and its economy slows.
The Chinese government has decided to combine the China National Petroleum Corp. (CNPC) and its main domestic rival China Petrochemical Corp. (Sinopec) as well as other major energy companies - China National Offshore Oil Corp. (CNOOC) and Sinochem Group, according to the Wall Street Journal.
The decision to consolidate China's oil sector by joining big state-owned firms into a single giant is part of an effort by Chinese President XI Jinping to make the country's oil producers more competitive globally and assert China's prominence.
The merger of CNPC and Sinopec would create one of the world's biggest companies with control of the vast majority of China's onshore oil and gas production. The merger of all four major oil producers would create an entity twice as big as ExxonMobil by revenue.
"We want to create a big Chinese brand to better compete overseas," the Chinese official was quoted as saying. "We want our own ExxonMobil."
"If you are focused on the foreign market, you certainly want to consolidate because it's more competitive abroad," Lin Boqiang, director of the China Center for Energy Economics Research at Xiamen University told the WSJ. "But if it's just for the domestic market it's better to have more competition, because competition leads to efficiency."
China's government wants to reorganize the whole oil sector to boost efficiency in the economy by changing the focus from domestic competition to foreign. Over the last 15 years major Chinese manufacturers have been competing against one other by cutting prices.
"They're increasingly fighting among each other," one of the officials with knowledge of the consolidation plan told the WSJ. "That has led to lots of waste and inefficiency."
READ MORE: Lowest Chinese economic growth in 24 years
China's currently facing a huge problem with overcapacity, which forces the country's oil companies to compete strongly with each other. Chinese officials suggest that "combining and streamlining the operations of the main oil manufacturers will help to reduce waste caused by redundant staff and projects," the WSJ reports.
Falling oil prices have forced the government of China to take further steps as strong international companies are making big deals all over the world. Spain's Repsol acquired Canadian oil and gas producer Talisman Energy Inc. for $8.3 billion last year. The Chinese government also decided to merge the two state-owned railcar makers in an effort to compete with Germany's Siemens and Canada's Bombardier.
You can share this story on social media: