Swiss police raid HSBC Geneva office in money laundering probe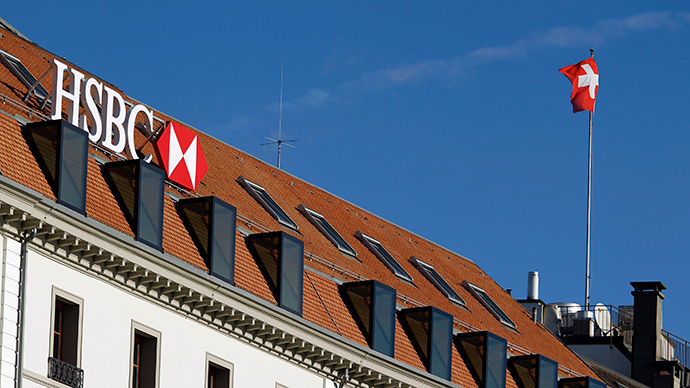 The Swiss subsidiary of HSBC was searched on Wednesday by officials after prosecutors in Geneva said they are opening a money laundering investigation into the bank's alleged illegal tax activity.
The premises of HSBC Private Bank (Suisse) were searched by authorities, AP reported, and the investigation could possibly extend beyond the bank to any clients participating in money laundering.
The investigation is being driven by "recent published revelations" of HSBC's Swiss private banking arm that was accused of helping terrorists, royalty, and drug dealers conceal their identities to avoid taxes.
press release this morning announcing the raid. The investigators have left the premises of #HSBC with troves of documents.

— Chitra Subramaniam (@chitraSD) February 18, 2015
Europe's largest bank, and the world's second largest, has been at the center of controversy since the International Consortium of Investigative Journalists published a report two weeks ago that named 100,000 clients that were using the bank to dodge taxes.
READ MORE:HSBC exposed in tax evasion data leak
HSBC's involvement in tax avoidance goes back to 2008, when former computer technician, Herve Falciani, blew the whistle on the company's practices after stealing confidential data which he then turned over to the French finance minister at the time, Christine Lagarde.
Between 2005-2007, the bank allegedly lured clients with the promise of keeping their tax identity hush-hush. At the time, the bank controlled $100 billion in assets.
Political consequences
The most recent media frenzy over the company has spilled into all aspects of London political life.
On Sunday, HSBC CEO Stuart Gulliver issued a public apology in wake of the revelations. Gulliver, who took over the helm of the bank in 2011, apologized for the practices of the past and said the current bank, has "absolutely no appetitive to do business with clients are who evading their taxes."
Lord Green, who was the bank's president from 2006-2010, has also stepped down from chair of the banking lobby group The City UK.
The story has received plenty of media attention, and the chief political commentator of the Daily Telegraph, Peter Oborne, resigned over his newspaper's coverage of the scandal. Oborne said editorial policy pushed the story out of the limelight due to HSBC's large advertising contract with the paper.
Why I have resigned from the Daily Telegraph: https://t.co/dgqWwfo9LC

— Peter Oborne (@OborneTweets) February 17, 2015
You can share this story on social media: