Russian stock market rallies on Ukraine ceasefire announcement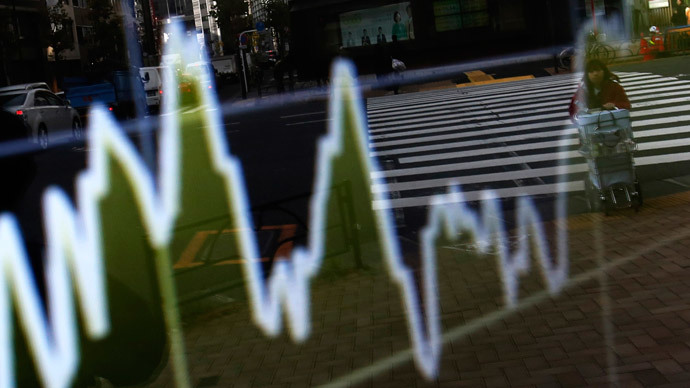 The Moscow Stock Exchange got a major boost after the Russian president said a Ukraine ceasefire deal had been reached in Minsk. The deal lessens the probability Russian companies will be slapped with more EU sanctions.
President Vladimir Putin announced the ceasefire at 12:08pm MSK, and by 12:25pm, the dollar-based RTS index soared 5.8 percent, and the ruble-based MICEX increased 2.58 percent.
READ MORE: Putin: Parties agreed on ceasefire starting February 15
The MICEX index hit 1,805 points, its highest level since April 2011. Gazprom, the country's biggest gas exporter, rose 5.52 percent and Rosneft, the largest oil producer, increased 8.6 percent. Lukoil, the country's biggest independent oil producer saw its share price edge up 7 percent.
Russian Stock Market & Ruble jump after Putin announced ceasefire in Eastern Ukraine pic.twitter.com/Hr3QgmWcoT

— *Russian Market (@russian_market) February 12, 2015
Sberbank, Russia's biggest lender and target of Western sanctions saw stocks rise by more than 9 percent.
The ceasefire in Eastern Ukraine starts February 15 after leaders of Russia, Ukraine, Germany, and France met in Minsk on February 12. The deal calls for the de-militarization of the Lugansk and Donetsk regions, which have been entrenched in civil war. More than 5,400 people have died in the fighting since April 2014.
The ruble, which has lost more than 50 percent against the dollar in the last year, improved 3.6 percent to 64.65 per 1 USD. Before the talks, it dropped nearly 3 percent against the dollar on the worry a deal wouldn't be struck.
You can share this story on social media: