Turmoil in Russia: Perfect time to 'restructure mindset', switch to technology exports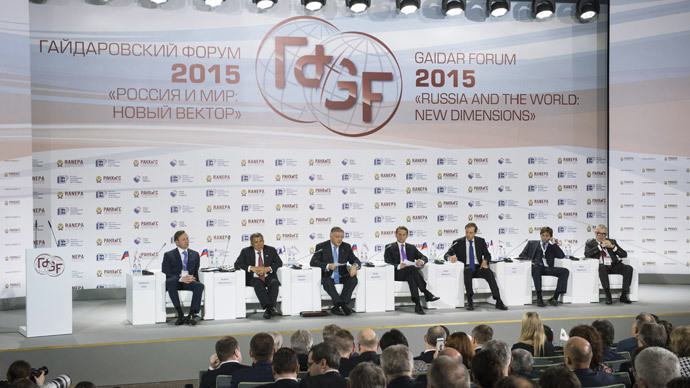 The current crisis in Russia is the perfect time for investment and creating a new model of development. Switching to technology exports would help the country overcome the crisis as fast as it can, speakers at the Gaidar Economic Forum in Moscow told RT.
Although the current geopolitical issues and the situation on the global oil market have created hard times for Russia, it should be born in mind that every crisis can be turned into an opportunity, says Professor Danica Purg, President of the IEDC-Bled School of Management in Slovenia.
"This crisis should be used for the fundamental restructuring of a mindset," she said "As important economically as it is, and as an intellectual potential you have, Russia could produce anything in the world. Russia should also pay much more attention to the management of technology."
READ MORE: Russia's oil and gas economy 'exhausted' - Medvedev
Talking about the risks of partnering with Russia she said now is the best time to start investing.
"Of course the uncertainty is big but you know what it is?" she said. "When it's a big risk, it's also a big return. I'm sure that some of the big companies who are courageous enough, and some people who are entrepreneurial enough, will continue to invest in Russia."
"The trick is to sell technology," believes Antonio Freitas, Vice President of Brazilian Getulio Vargas Fund. "Russia has the technology to produce products with value added, not to rely on oil and basic production."
The crisis the Russian national currency is going through may bring some positive effects in the long-term, says Santiago Iniguez, Dean of IE Business School in Spain.
"It's a great opportunity now to invest in Russian assets." he said "There are some positive effects about thiscrisisof the ruble. Of course inflation has increased but what we are going to see in the medium and in the long-term is that there'll be some sort of adjustment which is going to be in the long-run good for the Russian economy."
He added that whenever there are differences between countries at the political level, it's a perfect times to establish business links.
Russian Prime Minister Dmitry Medvedev said Wednesday at the Gaidar Forum that the Russian economic model based on energy and raw materials is exhausted. He said the country should operate in a framework of the National Technology Initiative, which defines the most promising technological niches.
"We have much to offer in the field of information technology, nuclear power, aircraft and aerospace industry, and in several other areas," he said.
You can share this story on social media: