Russia may demand early repayment of Ukrainian $3bn loan – finance minister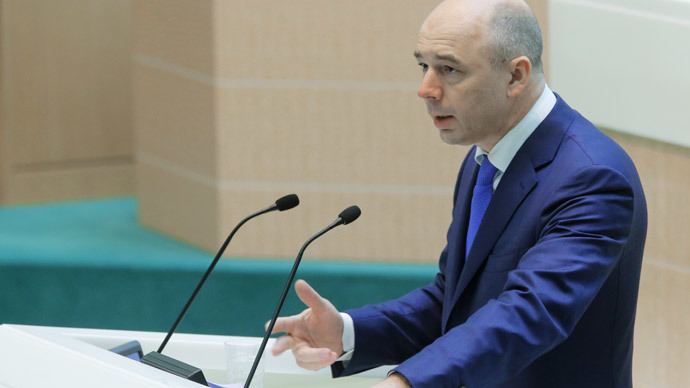 Ukraine has violated the terms of the $3 billion Russian loan by allowing its national debt to exceed 60 percent of its GDP. This makes Moscow eligible to demand an early repayment of the debt, Anton Siluanov, Russia's finance minister, said.
"Ukraine, indeed, has violated the terms of the loan, namely because its national debt exceeds 60 percent of its GDP," Siluanov said, commenting on earlier media reports of Kiev's loan violation.
The minister stressed that now Russia has "every reason" to demand an early repayment of the debt, but added, "at the moment, a decision to do so hasn't been made."

"It's also surprising that the federal budget of Ukraine doesn't foresee the settlement of the $3 billion obligations [to Russia]. But Ukraine is fulfilling and will keep fulfilling its obligations to other borrowers, including the IMF," Siluanov is cited as saying by TASS.
Viktor Suslov, who was Ukraine's finance minister from 1997 to 1998, confirmed to RIA Novosti that Moscow is, in fact, eligible to demand repayment from Kiev.

"Yes, in accordance with the terms of the loan, they may demand it or they may not demand it. However, in late 2014 the Russian authorities said that they won't be pushing for an early repayment," Suslov said.
In December 2013, Vladimir Putin and then president of Ukraine, Viktor Yanukovich, agreed that Moscow would provide Kiev financial assistance of $15 billion.
However, only the first tranche of $3 billion was forwarded, with Russia buying out Ukrainian Eurobonds, which had a maturing date in 2015 and a coupon rate of 5 percent per annum.
In February 2014, Yanukovich was ousted and the rest of the money was withheld due to the anti-Russian stance of the new order in Kiev, which blames Moscow for the secession of the republic of Crimea and Russia's alleged backing of rebels in southeastern Ukraine.
You can share this story on social media: