​Major oil traders book tankers for stockpiling crude at sea – report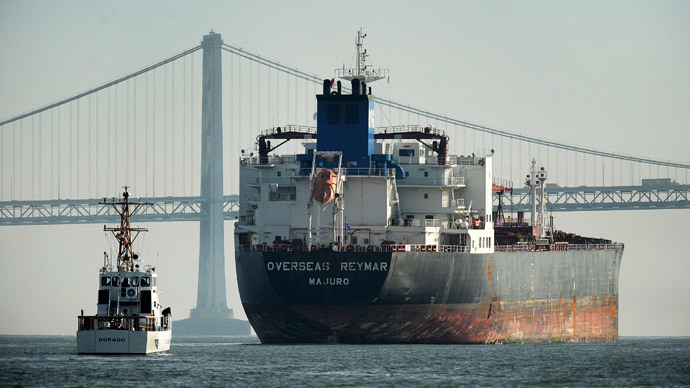 A continuous fall in global oil prices has prompted major oil traders to start hiring supertankers as they can benefit from stockpiling crude oil at sea.
The oil giant Shell and energy traders Trafigura and Vitol have booked crude tankers for up to 12 months, said Reuters, referring to the fixture lists provided by tanker brokers and oil traders.
Traders reportedly use the vessels to store excess crude at sea until prices stabilize as in 2009, when more than 100 million barrels were stockpiled this way. Then the news caused outrage over oil "speculators" supposedly waiting to sell oil at higher prices in future.
Shell has reportedly booked two vessels, and Vitol, the world's largest independent oil trader, has booked the TI Oceania Ultra Large Crude Carrier, one of the biggest ocean going vessels with a three million barrel capacity.
The move can be explained by the market phenomenon known as "contango", when spot or current prices fall below the cost of future shipment. It has happened for the first time since 2009 as spot prices fell by more than 50 percent in the last six months. This gives traders more reason to buy oil now, store it in tanks and benefit when demand recovers.
Trading firms have been able to hire the Very Large Crude Carrier (VLCC) vessels for less than $40,000 a day, compared to spot rates of $60,000 to $70,000 a day, according to the lists. Average daily earnings in December became the highest in years, reaching $97,000, and had so far put off many oil traders.
The lower rate has been possible to arrange by agreeing to hire some older and less fuel-efficient vessels for up to 12 months, the brokers said.
"In 2009 freight rates were extremely low and owners were willing to put their ships out on charter in order to mitigate weak spot rates," Christian Waldegrave at leading tanker owner Teekay told Reuters.
Traders have so far booked 12-15 million barrels of floating storage while at least 100 million barrels of oil ended up being stored at sea in 2009.
Traders can currently purchase Brent crude for less than $51 per barrel, while barrel for delivery in August costs more than $57, thus, in this case "contango" is more than $6. Analysts say the contango above $6.50 a barrel is needed to cover expenses on hiring a tanker, providing insurance and gaining profit from offshore storage.
Meanwhile Shell, Vitol and Trafigura declined to comment on the news.
The price of Brent crude on Wednesday plunged below $50 per barrel to $49.66 hitting its lowest since 2008. On Thursday it slightly recovered, bouncing back to $51. The price for Brent was $50.63 at 14:30 MSK.
You can share this story on social media: