Nicaragua starts work on $50bn canal between two oceans
The Nicaraguan alternative to the Panama Canal will be a waterway connecting the Atlantic and the Pacific oceans and is to be the most ambitious construction project in Latin America.
On Monday Nicaragua officially began work on a canal which will be a competitor to the Panama Canal 600 kilometers south. The Nicaragua canal will be capable of handling the super-heavy class ships with the capacity of up to 400,000 tons. It will be 278 kilometers long and 30 meters deep, which makes it wider and deeper that the century old Panama Canal. It is expected to be completed and operational by 2019.
The canal will reduce the cost of transporting goods via sea between America, Europe and Asia by about 30 percent. Experts believe it will be able to handle more than 5,000 high tonnage vessels a year.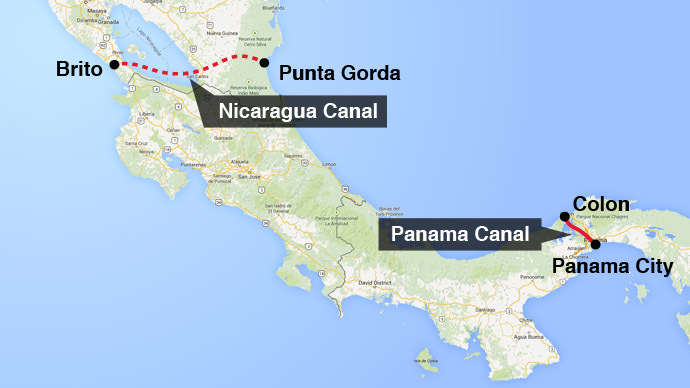 The construction of the canal will provide the country with a large number of new jobs and will contribute to the improvement of the economic situation, given the fact that Nicaragua is one of the poorest countries in Latin America, said Nicaraguan President Daniel Ortega at the opening ceremony.
More than 50 thousand people will participate in the project worth about $50 billion. A new port, an international airport and a free trade zone are part of the plans along with the canal itself. The Nicaraguan government says the project would raise annual economic growth to more than 10 percent.
However, the project's implementation is sparking protests among local environmentalists who say it will cause significant damage. The possible pollution of Lake Nicaragua, the largest reservoir of fresh water in Central America, raises much concern.
Local residents have been protesting against the destruction, as around 30,000 farmers are expected to be forced off their land due to the construction, according to AFP agency.
The project was proposed by the HK Nicaragua Canal Development Investment Co Ltd (HKND Group). HKND is headed by Chinese lawyer Wang Jing, who also heads China's Xinwei Telecom Enterprise Group.
You can share this story on social media: