Swiss central bank turns to negative interest rate amid ruble crisis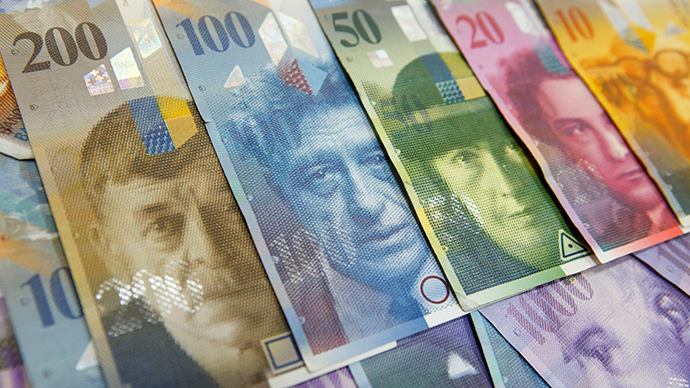 The Swiss National Bank has switched to a negative deposit rate for some deposits, as it seeks to avoid excessive growth of the national currency. The ruble crisis and unrest in global financial markets have fuelled demand for the Swiss franc.
From January 2015 the Swiss National Bank will charge banks 0.25 percent on sight deposits exceeding a given exemption threshold set individually for each account holder, it said Thursday in a statement.
At the moment the Swiss government tries to keep a currency 'ceiling' of SFr 1.2 against the euro and not let it go beyond that.
The decision comes as the ruble crisis in Russia and the collapse in oil prices have triggered a sharp correction in global financial market. The ruble turmoil is making people to rush and buy the Swiss franc as they see is at one of the world's safest harbors for investment.
READ MORE: Ruble crisis LIVE UPDATES
The SNB said it hoped the move would drive short-term rates negative, saying that it was "expanding the target range for the three-month Libor to -0.75 per cent to 0.25 per cent."
Introducing a negative interest rate means customers will be charged by the bank for parking their cash instead of earning interest on money left there.
The Swiss National Bank first introduced the ceiling in the middle of the eurozone crisis, which caused mass inflows into the country's market, and caused a dramatic appreciation in the Swiss franc.
You can share this story on social media: