Russia may 'automatically' cut oil output – energy minister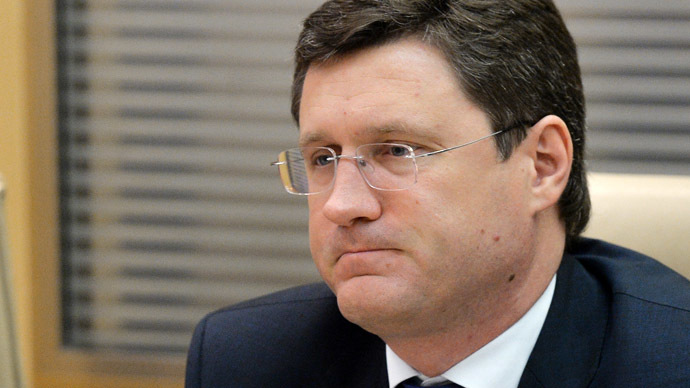 Oil companies in Russia may decide to not invest in projects due to lower prices, which would 'automatically' reduce production in the country, says Russian Energy Minister Aleksandr Novak.
Novak added that the oil producers will have the final say not the Russian government.
"We are assessing these risks that we may automatically reduce production as a result of low prices and failure to implement investment projects of the companies. We continue assessing these risks now," Novak told the Forum of Gas Exporting Countries in Qatar quotes Bloomberg.
READ MORE: Oil producers to lose $1tn if price below $60 – Goldman Sachs
He said exports from Russia could also fall due to increased domestic demand.
"Russia does not increase the supply of oil in the world market ... We plan to maintain the volume of production at the 2014 level. At the same time exports decreased due to growing domestic consumption," said Novak.
The minister believes individual countries can no longer affect the global oil market.
"In my opinion, such measures, when individual countries agree among themselves, are becoming a thing of the past, as today's market is completely different. The market is largely influenced by the countries that have large volumes of output and at the same time are importers of oil themselves," said the minister, specifying that the US is among these countries.
Earlier, Novak said Russia plans to keep oil production in 2015 at around 525 million tons. He predicted world oil prices could recover up to US$85-$90 a barrel after its continuous slide.
READ MORE: Russia, Saudi Arabia, Mexico, Venezuela decide not to cut oil production
World oil prices have fallen by almost a half since summer 2014. Experts believe it is because of oversupply in the market. OPEC's decision of 27 November to maintain oil output at the level of 30 million barrels per day hastened the price collapse.
READ MORE: Oil slumps 4% as OPEC leaves output unchanged

The energy minister said Russia supports the OPEC position and expects that the market will stabilize.
"All the countries [Russia, Venezuela, Saudi Arabia and Mexico at a meeting on November 26 - Ed.] agreed that the market issue of balancing supply and demand will be adjusted in the market way," he said.
Representatives of Russia, Venezuela, Saudi Arabia and Mexico met on November 26 in Vienna on the eve of the OPEC meeting. They agreed to coordinate their activities in the oil sector.
You can share this story on social media: