​Ukrainian minister admits country is 'bankrupt'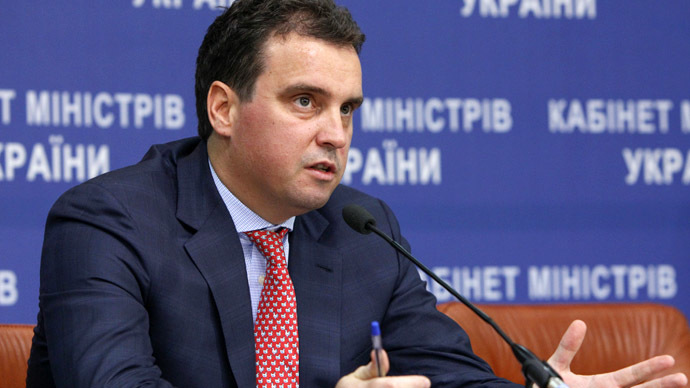 Ukraine is 'in fact bankrupt' says the new Minister of Economic Development and Trade Aivaras Abromavichus. He advises that the government shouldn't interfere in how businesses are run if it wants to get the economy out of trouble.
"Businessmen ask for one thing - they do not ask the government for help, they ask it not to interfere," Abromavichus said at an economic policy committee meeting Wednesday as quoted by RBC Ukraine.
"By and large, the state is bankrupt, so it's unreasonable to expect that we will create real, not declarative incentive programs," he added saying business has to handle everything itself.
A possible way out of this critical economic situation could come from additional assistance from the IMF.
On Wednesday, The Financial Times reported that the IMF estimated Ukraine needs an additional $15 billion in financial assistance. Extra funding is needed because of a 7 percent fall in the country's GDP, and a decline in exports to Russia. This has caused an outflow of capital and a reduction in foreign exchange reserves which lost more than 20 percent ($10 billion) in November.
The IMF believes that without the help Kiev will have to cut its budget or go into default on its bond repayments. At the same time the allocation of $15 billion was supported only by a few IMF lenders.
A $17 billion credit line to Ukraine available until 2016 has already been approved by the IMF.
READ MORE: IMF gives green light for $17 bn Ukraine aid package
An IMF representative says a decision could be made within a week if all the parties agree terms.
In recent months, the IMF and the EU have provided Ukraine with more than €4 billion. Kiev was promised €30 billion in total.
Abromavichus also plans to pull Ukraine into the top 50 countries in the 'Doing Business ratings' within two years. Ukraine will try to achieve this through abolition of controls and licensing, as well as through the establishment of equal rights for businesses, regardless of scale.
The new Economic Development Minister used to be a businessman in Lithuania. He received Ukrainian citizenship right before being appointed minister on December 2.
You can share this story on social media: