Gold tumbles to 3-week low after Swiss decide not to hoard
Published time: 1 Dec, 2014 14:58
Edited time: 1 Dec, 2014 15:21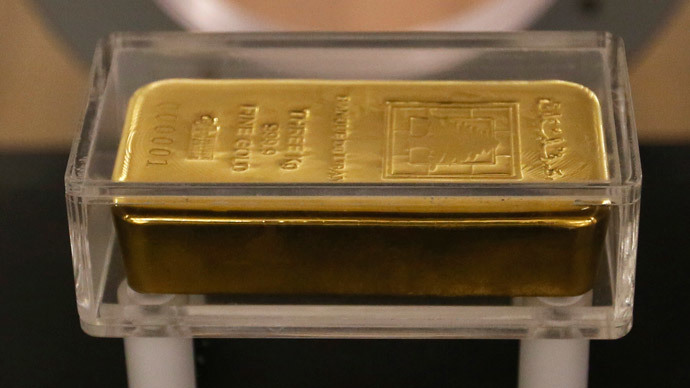 Gold fell 2 percent after Swiss voters rejected a plan that would have required the Swiss National Bank to increase its gold reserves and eventually have all Swiss bullion stored in Switzerland.
The "Save Our Swiss Gold" proposal required the central bank to hold at least 20 percent of its $538 billion reserves in gold, up from the current 7 percent. If passed, it would force the Swiss National Bank to convert a fifth of its assets into gold and repatriate all of its reserves from vaults in the UK and Canada. Voters overwhelming rejected the motion, with 78 percent voting against the bullion bunkering.
Voting "yes" would have prohibited the Swiss National Bank from selling gold, which would restrict the ease of conducting monetary policy. HSBC forecast a "yes" vote would have sent prices soaring by as much as $50 an ounce.
In early trading on Asian markets Monday, prices fell below $1,143 per ounce but later recovered in afternoon sessions on European markets, trading at $1,171 at 4:00pm MSK. The price recovered by 6:00pm to above $1,193.
The gold reprieve came after Moody's decision to cut Japan's sovereign credit rating, which sent the yen to a seven-year low against the euro, pushing up demand for the metal.
The repatriation of gold- bringing it home from foreign holdings- has been a hot debate around Europe. Last week, the Netherlands moved $5 billion worth of gold from New York back to vaults in Amsterdam.
READ MORE: Swiss, French call to bring home gold reserves as Dutch move 122 tons out of US
Germany has $635 billion worth of gold in US vaults and had planned to bring it back to Frankfurt by 2020, but has now decided to leave it in the US. Germany keeps one third of its gold in the Bundesbank and the rest abroad, in the US, France, and London.
After World War II, many European countries bought gold from the US Federal Reserve, but decided to keep in overseas instead of bringing it back to an uncertain post-war Europe.
In 1966, France transferred its reserves from the US to Paris via submarine.
The value of gold has been in a long decline, and has fallen more than 35 percent since late 2011.