​300,000 more 'absolute poor' in Britain than officially recognized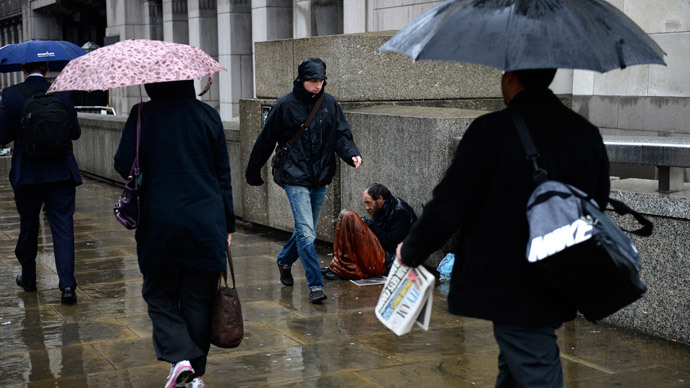 The number of British people living in absolute poverty is 300,000 higher than previously thought, according to a study for the Joseph Rowntree Foundation (JRF).
The report for the JRF by the New Policy Institute analyzes the relationship between poverty and the cost of living. It says that big increases in food and energy prices mean poorer households experience larger increases in their living costs than richer ones.
In the six years from 2008 to 2014, the cost of energy in the UK rose by 67 percent and the cost of food by 32 percent. Over the same period the retail price index, a measure of the cost of a basket of goods and services, jumped by 22 percent.
"In recent years, lower income households have tended to see bigger increases in their cost of living than have better off households," said Peter Levell, a research economist at the Institute for Fiscal Studies (IFS).
The Rowntree report said the poorest 20 percent of households spent 8 percent of their budgets on energy and 20 percent on food, while the richest 20 percent spent 4 percent and 11 percent respectively.
Richer households, in contrast, spend more money on things like motoring and mortgages, the costs of which have been rising less quickly than the average.
Taking into account differential inflation since 2010/11, the report estimated that the number of people in "absolute poverty" would have been about 0.5 percent or 300,000 more in 2013-14 than official numbers imply. It states that the increase in "relative poverty"' at the start of recession would have been greater as well.
Responding to the report, Katie Schmuecker, policy and research manager at the Joseph Rowntree Foundation, said: "Costs rising faster than earnings causes problems for us all, but it is the poorest families who have faced the greatest pressure from rising prices over the past decade. Any plans at the next election to help improve family living standards must get to grips with the high cost of essentials, as well as how to boost wages and incomes."
This week, JRF announced its minimum income standard has been raised by 20p to £7.85 an hour.
Research shows that 5.2 million British people, or 22 percent of the workforce, receive less than the prescribed living wage, an increase of one percent over the past year.
Schmuecker said the living wage rise is an essential tool in tackling the issue, but added that 'It must be complemented by a wider strategy that includes measures to address the cost of essential goods and services, the nature of work at the bottom end of the labor market, and how well the tax and benefit system work.
Earlier this week a separate report by the Legatum Institute ranked the UK was the 13th most prosperous country in the world, before France and Germany.
You can share this story on social media: