Russia not against European pivot for ex-Soviet allies – Putin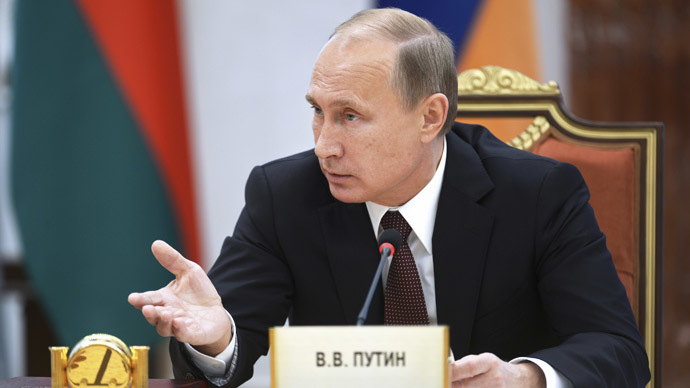 Russia has nothing against other CIS member states building closer ties with Europe, the only thing it insists on is that its allies properly discuss the possible economic risks to the Russian economy, President Putin said at the summit in Minsk.
"We have never been opposed to closer relations with the EU, we ourselves want to move closer," Putin said.
Europe is the biggest trading partner for Russia, as well as Kazakhstan, and a major player for Belarus, Kyrgyzstan, and Tajikistan. Russia-EU trade is $430 billion per year.
However, before another country decides to join another trade association, it must give enough time and hold open discussions in order to avoid risks to the Russian economy, the president said.
"When signing documents with our European partners, we must think of the impact on our domestic markets being flooded by European goods disguised as local products," the President said.
Lack of proper consideration of new European agreements will unfairly flood markets with European goods, which can hurt national interest.
If we do it in a timely manner, then there will be no problem. This also applies to Moldova and Ukraine," Putin said.
On Friday heads of state from Russia, Belarus, Kyrgyzstan, Kazakhstan, and Tajikistan are meeting in Minsk to formally cancel the dissolution of the Eurasian Economic Community (EurAsEC) signed in the 1990s in order to prepare for the Eurasian Economic Union, which will be the largest common market in the ex-Soviet sphere and comes into effect in January 2015.
READ MORE: Russia completes ratification of Eurasian Economic Union, as Putin signs law
Changed priorities
Trade between CIS countries is on the decline, falling 9 percent in the first half of this year as a result of the changing trade priorities of Commonwealth states. In the first six months of 2014 trade was $111 billion compared to $123 billion in the same period in 2013. Overall trade between CIS countries in 2013 was $235 billion.
"These figures are largely due to the unfavorable external environment, but also a consequence of the change of economic priorities of some members of the Commonwealth," Putin said.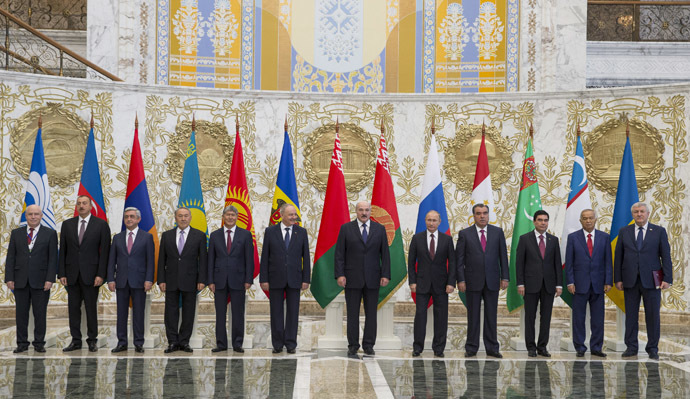 Trade between Russia, Belarus, and Kazakhstan in 2013 was $66.2 billion, but is projected to increase once the free trade zone is enacted.
Ukrainian signed the economic (the Deep and Comprehensive Free Trade Area, or DCFTA) part of the Association Agreement with the EU along with ex-Soviet nations Georgia and Moldova on June 27.
Kiev and Brussels ratified the document on September 16, but full economic integration will be postponed until the end of 2015.
READ MORE: Ukraine and EU ratify landmark Association Agreement
Protests erupted in Ukraine after ex-President Viktor Yanukovich declined to sign the European Trade Agreement in favor of holding trilateral talks between Russia, the EU, and Ukraine.
Soviet associations
When the Soviet Union collapsed in 1991, the former republics agreed CISFTA, a free trade agreement between Russia, Ukraine, Belarus, Kazakhstan, Kyrgyzstan, Tajikistan, Moldova and Armenia which was eventually signed in 2011.
"It is not an easy task to completely integrate documents signed by our counterparts within the legal framework of the CIS, especially in relation to the free trade agreement from October 18, 2011. On our side we are ready to work towards a solution to avoid losing established CIS partnerships in industry, finance, agriculture, and finance," the Russian president said.
The Commonwealth of Independent States includes Armenia, Azerbaijan, Belarus, Kazakhstan, Kyrgyzstan, Moldova, Russia, Tajikistan, and Uzbekistan
You can share this story on social media: