Putin rejects US 'easy money' stimulus in Russia, says reforms needed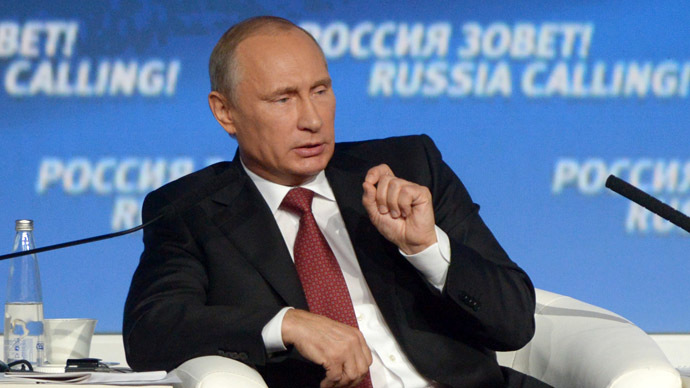 Russia must be careful with any monetary stimulus, and can't be injecting billions into the economy to make it grow, as the US has been doing, President said at VTB's Russia Calling! investment forum.
Russia plans to increase internal debt, but will go about it more carefully than US, so it doesn't hurt the real economic sector.
"Domestic debt will increase, because it's at a record low level. But we'll proceed carefully," Putin said. "We need to improve our growth not by means of monetary injections, but by structural reforms."
This was Putin's answer to a question on whether Russia is going to provide special support for the country's financial markets at a time when access to foreign long-term borrowing is curtailed by sanctions.
The President outlined that Russia's budget for the next three years will continue with a more prudent approach to debt.
"The federal budget of 2015 and of 2016-2017, which the government has presented to the State Duma, proposes a rather moderate deficit, just 0.5-0.6 percent of GDP, with the base price of crude oil set at $96 per barrel. These are stable basic parameters which allow strict compliance with all budget liabilities, including social ones," Putin said.
Western sanctions have blocked several Russian companies from long-term borrowing on EU and US capital markets, which many state and private companies rely on. In response, the Russian government has pledged to dip into the Reserve Fund to provide financial aid to those hit by the sanctions.
You can share this story on social media: