Kiev's claims over legality of $3bn bailout 'baseless' – VTB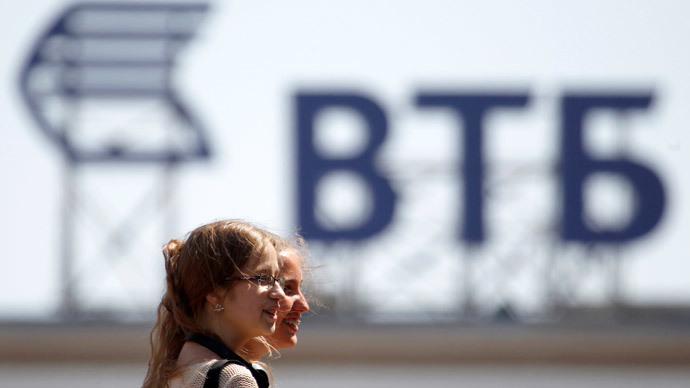 VTB, Russia's second-largest bank, has responded to Ukraine's doubt as to the legality of the bank's role in a $3 billion bond purchase last December to help Kiev's ailing economy. Such claims are "baseless" the bank said in a statement on Friday.
Kiev claims that a $450,000 fee was illegally transferred to VTB Capital last December when Moscow agreed to lend Kiev $3 billion to support Ukraine's dwindling budget. On Thursday, the Ukrainian security service began an investigation, questioning the legality of the bond sale brokered by the country's former finance minister, Yury Kolobov.
"Claims made by the Ukrainian authorities that the placement of $3 billion in bonds was carried out illegally are completely baseless," the VTB statement said.
Ukrainian negotiators specifically chose VTB to organize the bond placement with money from the country's $88 billion National Welfare Fund. The bonds were placed on the Irish Stock Exchange in December 2013.
"The placement was carried out in full accordance with English law and applicable Ukrainian legislation," the bank said.
Under the terms of the Russia-Ukraine deal signed in December, Ukraine's debt shouldn't exceed 60 percent of GDP. This means that technically Russia has the right to demand the money back before the bonds are due in 2015.
Russia's Finance Ministry told Reuters that there are unofficial reports Kiev's debt has already passed that threshold. The Finance Ministry will officially assess the situation once they have official debt figures for January-September, the first three quarters.
VTB Capital Investment Management, a Moscow-based investment group, manages close to $190 billion in assets and is part of the VTB Group.
The bonds will be in circulation through January 1, 2016.