Russian sanctions 'de facto against European business' – Alstom chief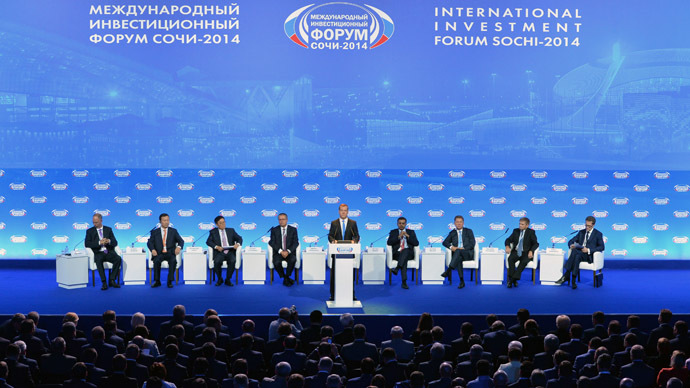 Russia has become a strategic market for thousands of European companies, and sanctions put EU business at risk, Philippe Pegorier, President of Alstom Russia , told RT at a Sochi Investment Forum.
"Sanctions against Russia are de facto sanctions against European business," Philippe Pegorier, President of Alstom Russia, and Chairman of the Association of European Business in Russia (AEB), the largest foreign business association in the country, told RT over the weekend at an international business forum in Sochi .
"We don't need the government or the EU to decide where our priorities are, for us, for many European companies, Russia is a strategy partner and we will remain a strategy partner," he said.
Pegorier has warned that sanctions against Russia could cause 300,000 layoffs in Germany and at least 100,000 in France.
Trade between Russia and Europe stands at about $330 billion annually and Russia is Europe's third largest trade partner. The EU is Russia's largest trading partner, as it sources about half of its imports from the 28-nation bloc. However, with sanctions, that is changing.
EU companies often operate in Russia; Germany has 6,200 businesses active in Russia. Europe provides 75 percent of foreign investment in Russia, according to Pegorier.
Relations between Russia and EU have hit a new low over the Ukraine crisis, Pegorier said.
"The EU and Russia do not understand each other for the time being, but business is a link," he told RT.
"We never had sanctions which we are so integrated. Russia is not Iran, Iraq, not Syria, not Libya. We are completely integrated."
Pegorier also serves as the Chairman of the Association of European Business in Moscow, and said that his company will comply with the law, but will have to adapt. One of the ways is to localize and bring more production into Russia.
The latest round of EU and US sanctions targeted Russia's oil and gas sector, finance, and weapons industries. Companies on the sanctions list cannot raise long-term capital on European or US markets.
The 2014 Sochi International Investment Forum discussed how to make the Russian economy more competitive, especially under the threat of sanctions, Russian Prime Minister Dmitry Medvedev said on Monday, ITAR-ITASS reported.
At the forum over $15.5 billion in contracts were signed.
You can share this story on social media: