Stock markets, Sterling rejoice as Scotland votes 'No'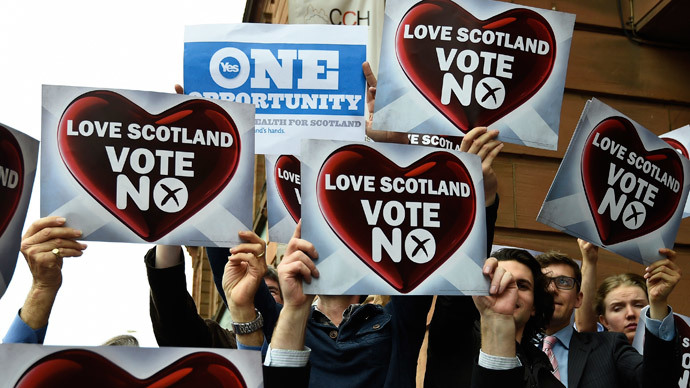 European stocks rallied to a 6½-year high after Scotland rejected independence in favor of unity, with London's FTSE 100 Index reaching a 14-day high. The UK pound rallied to a 17-day high.
Sterling continues to climb and was last up 0.39 percent at $1.6460 against the dollar, after the vote showed a clear 55 percent majority in favor of continuing Scotland's 307-year union with the rest of Britain.
READ MORE: Scotland votes 'No' to split from UK in independence referendum
The British currency recovered from its 10-month low reached when some polls put the 'Yes' vote in the lead for the first time. The sell-off reflected an uncertainty over the issue of what currency Scotland would adopt and how it could have affected the pound.
The pound sterling began to strengthen on Asian floors as early results indicated there would be no Scottish split. The currency reached a $1.6525 high against the US dollar, the best it's been for 17 days.
The FTSE 100 index -composed of the 100 largest companies listed in London- is heading for an overall weekly gain of 0.9 percent
READ MORE: Investors pull $27bn out of UK in one month amid fears of Scotland's exit – report
All of Europe's other main indexes saw positive gains Friday morning, with Germany's DAX Index up 0.52 percent and France's CAC 40 up 0.56 percent. The Stoxx Europe 600 Index climbed 0.8 percent in London.
Scotland's biggest banks are also gaining traction on the vote. Royal Bank of Scotland Group climbed 5.3 percent and Lloyds Banking Group increased 2.1 percent in early morning trading in London. The two lending institutions threatened to relocate to London in the event of a 'Yes' vote. Other primary economic concerns were how Scotland and the rest of Britain would divide up oil resources and divvy up shared national debt.