US should commit to sending oil to Europe - EU Trade Commissioner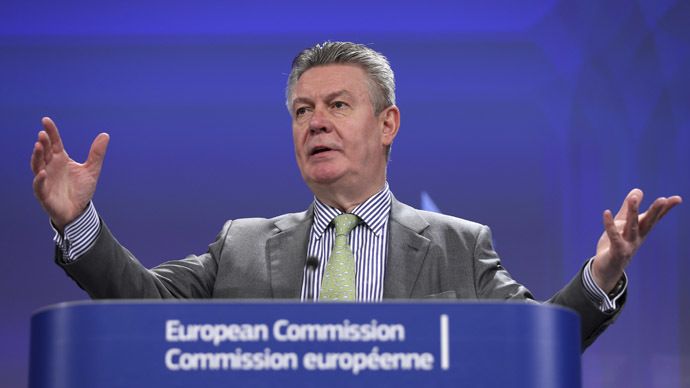 EU Trade Commissioner Karel De Gucht wants to see oil and natural gas exports from the US to Europe included in the forthcoming transatlantic trade deal which will create the world's largest free trade zone.
Europe wants US oil and gas to help offset its dependence on Russian energy. About 30 percent of Europe's total gas requirement comes from Russia, approximately half of that is vulnerable should Ukraine cut supplies, as happened in 2006 and 2009.
The EU believes importing energy from the US would make supply more secure.
"It is important that we come forward with a position on that (energy agreement) as soon as possible, because maybe you may have noticed that some things are going on in Europe," EU Trade Commissioner Karel De Gucht told reporters on Tuesday. De Gucht is in Washington holding meetings with US Trade Representative Michael Froman about the deal.
The EU trade chief believes including energy on the Transatlantic Trade and Investment Partnership (TTIP) would secure energy supplies in Europe and send a strong signal to Moscow.
"I think everybody would agree that energy is a little bit more urgent for the time being, and also, very much geostrategic," he said, adding the finalized trade pact will likely be ready in a year. The deal will be historic bringing half of the world's economy into a free trade agreement. It has been likened to an economic version of the North Atlantic Treaty Organization (NATO).
Natural gas prices in the EU are more than three times that of the United States. Even though the US is slated to become the world's largest oil producer by 2020, and even energy independent by 2037, US analysts still worry that exporting energy could push up prices at home.
The US has banned the export of crude oil since 1975, but has recently said it is considering changing federal laws to do away with the export restrictions.
"I cannot imagine that there will ever be a TTIP without such (energy) provisions," De Gucht added, referring to the Transatlantic Trade and Investment Partnership.
Trade talks have been stalled over a number of demands and bureaucracy on both sides. America is demanding more access to EU bank records, and Europe is insisting US cheese producers drop names like "Provolone" or "Munster" so as not to confuse consumers over the cheese's country of origin.
READ MORE: EU-US historic trade deal: 'Putting the corporation above the nation'
Under the agreement some are worried that cooperation will win out over consumers, which may see a decline in the quality of goods as a result of less stringent regulation.
So far, most of the TTIP talks have been held in secret so precise details are unknown.
You can share this story on social media: