Markets rally on promise of ceasefire in Ukraine
Published time: 3 Sep, 2014 12:39
Edited time: 3 Sep, 2014 13:00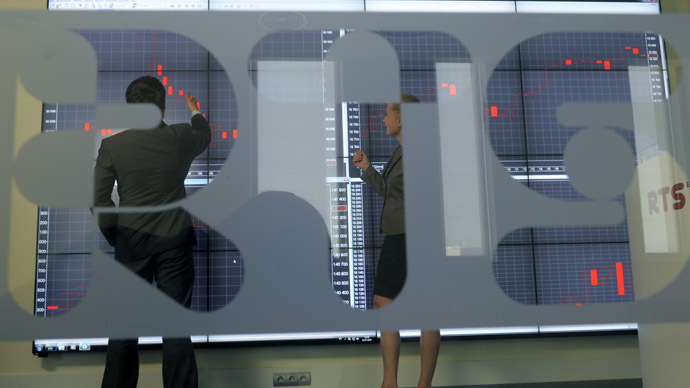 Stocks and currencies optimistically increased on peace moves discussed by the Russian and Ukrainian presidents aimed at easing the conflict in eastern Ukraine.
Markets were bullish Wednesday morning after Ukrainian President Petro Poroshenko announced a "permanent" ceasefire to the fighting in the Donbass region in Ukraine. The president's office later retracted the statement and the presidential website changed the wording to "ceasefire regime."
"Any mutual ceasefire is good news and the market is going to react positively,'' Neil Shearing, chief emerging markets economist at Capital Economics told Bloomberg.
In Moscow, the dollar-based RTS index jumped 4.62 percent and the ruble-based MICEX climbed 3.03 percent, the largest rally since the beginning of the summer.
Russian stocks rose sharply on the news with giants like Sberbank gaining 6.3 percent, and Gazprom 5 percent. By midday gains continued but leveled off.
The ruble followed, gaining 1.4 percent to 36.91 against the dollar, and also caught up to the euro, jumping 1.25 percent to 48.54.
The ruble to dollar rate rose to an all-time high of 37.51 on Monday over concerns of a widening military conflict and a new round of sanctions against Moscow.
The announcement "removes a large part of the risks of further escalation in the crisis, and might signal the end of the crisis in general," Bank of America analyst Vladimir Osakovsky wrote to Bloomberg News in an email.
The Standard & Poor's 500 Index in London added 0.4 percent to 2,008.2 shortly after the news, before settling down to 2,002.28 at 11:10 GMT.
European indexes took the news warmly, as the possible de-escalation means the EU could hold off on imposing a fresh round of sanctions against Russia on Friday.
"The development also dramatically cut the risk of a new round of sanctions against Russia," Osakovsky said.
Western sanctions against the Russian economy have been a drag on economic growth in the EU.
Following the announcement, the German DAX index jumped 1.7 percent, France's CAC increased 1.2 percent, and London's FTSE 100 was up 0.76 percent.