Juncker becomes new European Commission president, promises to put EU economy back on track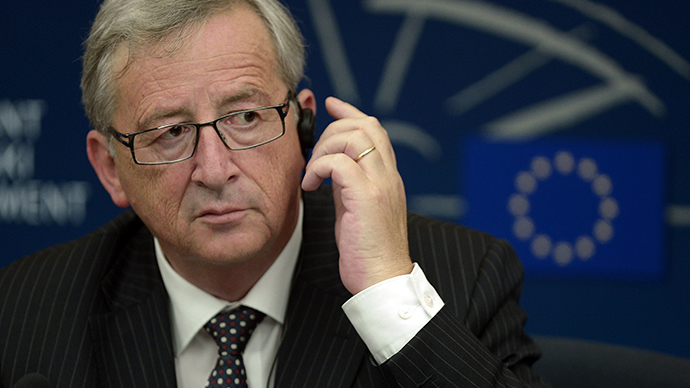 ​Jean-Claude Juncker has been appointed the new boss of the European Parliament, as he promised to 'reindustrialize' the economy and put the EU's 25 million unemployed back to work.
The 59-year-old former Luxembourg Prime Minister takes the post at a hard time for the European economy. The 28 EU member state unemployment rate is hitting 10 percent, with 5.2 million young people or almost every fifth youth without a job. Meanwhile the International Monetary Fund cut the GDP growth forecast to 1 percent in 2014 instead of the 1.1 percent announced earlier.
Juncker acknowledged many Europeans had lost confidence in the EU and recognized that it wasn't endless debate over EU institutions, but economic results and full employment that would restore their trust.
The politician proposed a new 300 billion euro ($409 billion) public-private investment program and also help to create new workplaces and to stimulate economic growth in Europe in the next three years.
On November 1 Juncker will take the position which is assumed to be the most powerful in the EU as the Commission proposes and enforces laws for half-a-billion European citizens.
Despite being opposed by Eurosceptics, Juncker said that the euro had protected Europeans in the world economy claiming nationalism only led to war. He also mentioned Mitterrand, former Commission chief Jacques Delors and former German Chancellor Helmut Kohl, the men who created Europe's single currency as his heroes and mentors.
Earlier all leaders of EU countries voted for Juncker except the heads of Hungary and UK. The British Prime Minister David Cameron opposed the candidacy of the politician whose interests are focused on the ever close union of Europe.
With the support from the Socialists and Liberals as well as his own centre-right bloc, the largest in the EU legislature, Juncker gained 422 votes while 250 voted against his appointment, 47 abstained with 10 spoiled ballots.
The focus will now turn to the Wednesday summit where the European leaders will name the successor to Britain's Lady Ashton as Europe's foreign policy chief who will also serve as first vice-president of the Commission.
You can share this story on social media: