Ukraine's reverse gas flow from Europe artificial – Putin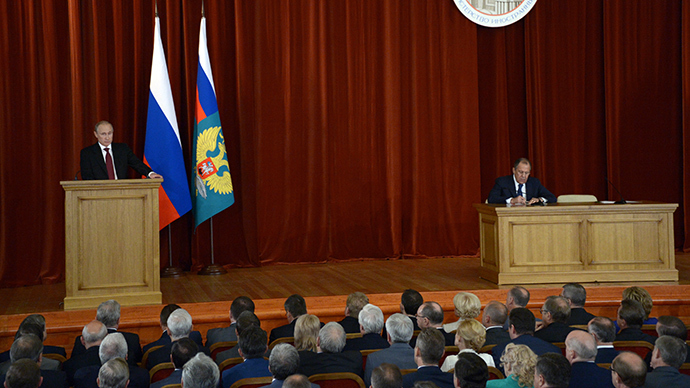 Ukraine has concocted a plan with its European partners on reverse gas flows, that actually don't exist, said Russian President Vladimir Putin. He added that Russia is keeping calm so as not to provoke the situation.
Putin to West: Stop turning world into 'global barracks,' dictating rules to others
"How can it be possible to supply the gas on the same pipe to one side and another? We know that there is no reverse gas flow. There is no need to be a specialist to understand it," ITAR-TASS quotes Putin.
President Putin stressed that Russia "sees everything"; however the country is not acting, only because it doesn't want the situation to worsen.
"It's an artificial reverse flow, in fact there is no reverse," Putin said.
The Russian leader is certain that Ukraine has concocted a plan with its western partners by paying for gas European customers do not receive.
Putin considers the main problem is Ukraine has broken its obligations, after which the country refused to pay for gas supplies. Putin accused Ukraine on Tuesday of using "blackmail" in negotiations on gas prices, and that Kiev had demanded a "totally unjustified" price cut for Russian gas supplies.
"However the agreement was signed in 2009 and was conscientiously implemented from our side," said Putin.
The president said that on June 16 Ukraine was switched to a gas prepayment plan, which created a need to pay in advance for any natural gas from Russia at a price of $485 per thousand cubic meters.
It means Ukraine stopped receiving gas from Russia, as Naftogaz now owes Gazprom $4.5 billion.
Ukraine then responded by saying it could receive up to 20 billion cubic meters in reverse flow from neighboring Slovakia, Poland and Hungary. However Gazprom and RT experts doubt that even having the infrastructure to reverse the gas flow, the scheme would be legal.
You can share this story on social media: