Belarus and Kazakhstan refuse to accept Russian trade cuts on Ukraine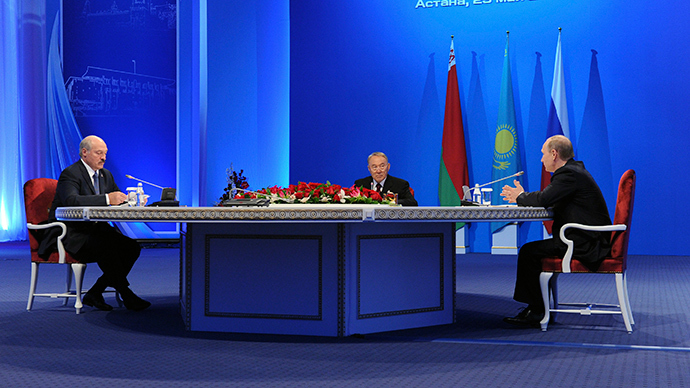 If Russia wants to raise tariffs on Ukrainian imports or even ban products completely, it first needs the support of its Customs Union partners. If it doesn't get it, it may act alone, says Deputy Prime Minister Igor Shuvalov.
However, Shuvalov didn't specify how Russia could do it on a unilateral basis, Vedomosti newspaper reports.
Russia failed to persuade its economic allies in the Customs Union – Belarus and Kazakhstan – to support it and introduce increased fees on Ukrainian imports, says the paper citing a government official who participated in the Eurasian Economic Committee talks.
The refusal seems logical at the moment, the official said. Kazakhstan is now trying to join the WTO and Ukraine could block its accession. Belarus in turn has a vast border with Ukraine and closing it would mean huge losses for the country, he explained.
This week Ukraine will hold trilateral talks with the EU and Russia to sort out the details of how Kiev will balance trade between Moscow and Brussels. Currently Ukraine is part of a former-Soviet state Partnership and Cooperation Agreement, a trade pact the country signed in 1998.
"This is a conversation that concerns all sides - Ukraine, Russia, and all our partners at the common economic space," Dmitry Peskov, President Putin's spokesman, said, as quoted by Vedomosti.
"Protective measures are needed, and we will continue the dialogue so that the measures are multi, and not unilateral," he added.
Ukraine signing the free trade agreement with the EU will complicate its trade relations with Russia, which insists Kiev can no longer enjoy preferential trade treatment.
On Friday, Ukraine's President Petro Poroshenko signed the economic portion of the Association Agreement with the EU, which slashes trade tariffs between the ex-Soviet state and the European market.
Georgia and Moldova also signed both political and economic parts of the Association Agreement on Friday. Armenia has expressed interest in joining the Eurasian Economic Union and so has Azerbaijan.
You can share this story on social media: