Putin: US unhappy with South Stream because it wants to deliver gas to Europe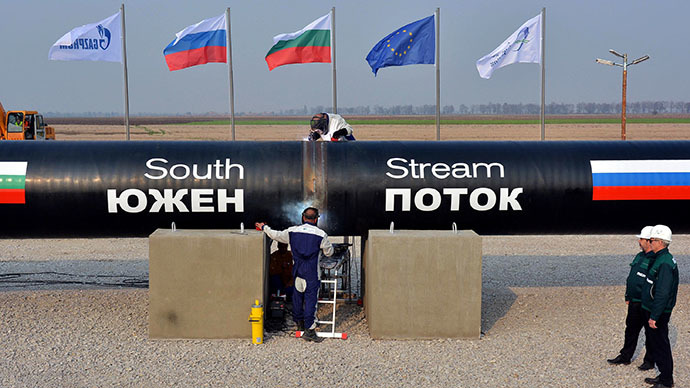 The US opposes the Russian South Stream gas pipeline project because it wants to supply gas to Europe itself, President Putin said on Tuesday. He called the situation an "ordinary competitive struggle."
READ MORE: Austria and Russia sign South Stream gas pipeline treaty
"They do everything to disrupt this contract. There is nothing unusual here. This is an ordinary competitive struggle. In the course of this competition, political tools are also being used," the Russian president said after holding talks with his Austrian counterpart, President Heinz Fischer, in Vienna.
"We are in talks with our contract partners, not with third parties. That our US friends are unhappy about South Stream, well, they were unhappy in 1962 too, when the gas-for-pipes project with Germany was beginning. Now they are unhappy too, nothing has changed, except the fact that they want to supply to the European market themselves," Putin stated.
Should this happen, American gas "will not be cheaper than Russian gas – pipe gas is always cheaper than liquefied gas," Putin stressed.
Russia and Austria have signed an agreement to construct the Austrian arm of the US$45 billion South Stream gas pipeline project, which is expected to deliver 32 billion cubic meters of Russian gas to the country, bypassing Ukraine.
But President Putin stressed that Moscow is not bypassing Ukraine for political reasons.
"These are natural steps to expand the transport infrastructure," Putin said. "[Moscow is not] striving to bypass Ukraine."
He reminded that the Nord Stream, South Stream, and Blue Stream projects started a while ago.
"It is wrong to always say that we are doing anything against anyone," Putin noted. He added that Russia, just like its "partners," can and will "create the most favorable conditions, and have contacts and contracts with many partners."
Russia will continue "to promote our product in emerging markets," Putin stressed.
At the same time, Austrian President Heinz Fischer hailed the project, calling the South Stream gas pipeline "expedient" and "useful."
The joint South Stream Austria project will be 50 percent owned by Gazprom – Russia's largest gas producer – and 50 percent owned by Austria's OMV Group, the country's largest oil and gas company.
Fischer stated that if anyone criticizes Austria, they should also criticize other member countries and their companies.
"I suppose that there will be no such moment when such a country as Austria will not be holding talks with a partner, which has intense relations with us, and will not be ready to negotiate with it," the Austrian leader said.
"We know such a dialogue does not contradict any EU decision," he added.
Construction of the Austrian section is expected to begin in 2015. The first deliveries could begin in 2017, reaching full capacity in January 2018.
OMV spokesman Robert Lechner was slightly more optimistic, saying the first South Stream deliveries to Austria could come as early as 2016.
You can share this story on social media: