NGO names EU banks allegedly tied to violence in African state
Top German and French lenders are investing in oil companies whose revenues are used to fund atrocities in South Sudan, Global Witness has claimed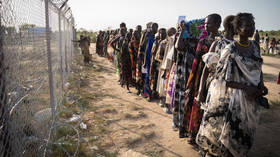 Sixty major EU banks and investors have been accused of fueling violence in South Sudan, where the UN has repeatedly denounced widespread killings, systematic rape, and forced displacement of civilians.
The banks, including Germany's Allianz and Deutsche Bank, as well as Italy's Intesa Sanpaolo, have invested over €700 million ($751 million) in two companies tied to human rights atrocities in the landlocked African country, international nonprofit organization Global Witness said in a report on Tuesday.
It also listed French international banking company Crédit Agricole Group among the top funders.
The NGO claims that despite US sanctions, the two largest international oil companies operating in South Sudan, China National Petroleum Corporation (CNPC) and Malaysian state-owned firm Petronas, continue to be funded by EU investors.
"European creditors have also provided over €4 billion [over $4 billion] worth of loans and underwriting services to the two companies in under seven years," Global Witness said in its report.
Washington imposed sanctions on 15 South Sudanese oil operators in 2018, including Dar Petroleum Operating Company, an oil and gas consortium led by CNPC and Petronas. The US State Department claimed that the South Sudanese government was using revenue from the firms to buy weapons and fund irregular militias that threatened the country's peace, security, and stability.
South Sudan became embroiled in a civil war in 2013 that was sparked by a political dispute between President Salva Kiir Mayardit and his former vice president, Riek Machar. The conflict claimed hundreds of thousands of lives, reduced oil production, and forced about a third of the population of 12 million to flee their homes.
The warring factions reached a power-sharing agreement in August 2018, which ended the civil war. However, the UN has reported that state actors continue to commit grave human rights violations, with 714 incidents of violence affecting 3,469 civilians last year. Around 1,600 South Sudanese were killed, 988 injured, and 501 abducted, it added.
Global Witness insisted in its report on Tuesday that the EU banks' ongoing investment in the South Sudanese oil sector, from which they have profited since the conflict began nearly a decade ago, contradict human rights pledges.
"Deutsche Bank, Allianz, Intesa Sanpaolo and the rest have been funding companies linked to unspeakable aggression against civilians in South Sudan for years, yet they've done nothing but sit back and watch money roll in," Aurelie Skrobik, corporate accountability campaigner at Global Witness, said in a statement.
"We urgently need European governments to support a new law that could prevent banks and investors from financing companies linked to human rights and environmental abuses," Skrobik added.
You can share this story on social media: