G7 Russian diamond plan will devastate African miners – regulator
A proposed tracing mechanism will hurt the continent's producers, according to the multilateral body Kimberley Process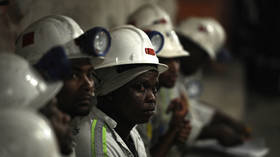 The Group of Seven (G7) nations' plan to track and trace Russian diamonds will bring "irreparable harm" to African producers, according to Ahmed bin Sulayem, who heads up the multilateral regulatory body Kimberley Process, the Financial Times has reported.
The Kimberley Process is a global trade regime established two decades ago with the aim of increasing transparency and oversight in the diamond supply chain and eliminating trade in conflict diamonds.
Meanwhile, bin Sulayem, who was elected this week to head up the multilateral regulatory body, told the FT on Tuesday that any proposed scheme "must take into account African diamond producing nations" such as Botswana, the Democratic Republic of the Congo and South Africa. However, the EU proposal to put restrictions on the global trade of diamonds, which could be adopted by the G7, "falls well short of this important goal," he said.
The report follows EU foreign policy chief Josep Borrell's statement last week that the bloc was set to move ahead with a ban on Russian diamonds after receiving sufficient backing from the G7.
According to the FT, one version of the proposal entails Antwerp becoming a "gatekeeper" to ensure the non-Russian origin of diamonds entering the market of G7 nations.
Sulayem pointed to growing concern among African nations that they could become collateral damage under such a proposal, while Antwerp is set to profit from their diamonds. They have also been complaining about not being invited to the G7 discussions, he said.
The African Diamond Producers Association warned last month that the proposal would "bring supply chain disruption [and] added burden and costs" to mining nations. The association represents 19 producers accounting for 60% of global output.
Imports of rough diamonds from Russia were either banned or partially restricted by the US, UK, Canada, and New Zealand last year. The G7 and EU have been considering a broader ban over the past several months that would restrict direct purchases of diamonds from Russia and introduce a mechanism to prevent indirect imports of rough gems of Russian origin.
According to media reports, the countries plan to introduce a special tracking system that would include physical checks of packages containing stones, and compulsory traceability data for diamond producers and traders.
For more stories on economy & finance visit RT's business section
You can share this story on social media: