Meta spread hate in Ethiopia – Amnesty
Tigrayans in the country have been subjected to serious human-rights abuses by Facebook, Amnesty International reports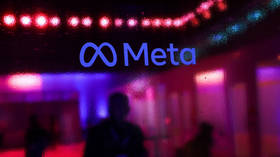 Facebook played a role in the violence that occurred during the two-year conflict in Ethiopia's Tigray region, human-rights group Amnesty International reported on Tuesday.
The social media site's algorithms "supercharged the spread of harmful rhetoric," Amnesty said.
The escalation of hate speech was caused by Meta's algorithms, and the US-based social network failed to control the widespread dissemination of this problematic content.
"Facebook's algorithmic systems supercharged the spread of harmful rhetoric targeting the Tigrayan community, while the platform's content moderation systems failed to detect and respond appropriately to such content," the human rights group pointed out.
Amnesty is alleging that the platform's inaction caused the death of a civilian who was accused of supporting an armed group. Meareg Amare, who taught chemistry at a Tigrayan university, was murdered by a group of men after posts were made on Facebook in November 2021.
"The Facebook posts contained his name, photo, place of work, house address, and claimed that he was a supporter of the Tigray People's Liberation Front, accusing him of stealing large sums of money. These allegations were denied by his family," the organization's report noted.
Meta's business model, described by Amnesty International as "data-hungry," remains a significant threat to human rights in areas affected by conflict.
However, the group believes that many Ethiopians rely heavily on the Facebook platform for information, and that they trust it.
The situation with the dissemination of inciteful messages against ethnic Tigrayans is not an unprecedented case for Facebook. Meta is currently being sued for failing to address harmful content. A lawsuit was filed against the company in 2021 because it posted content that caused violence during the Rohingya genocide in Myanmar.
Meta has been blamed by Amnesty International for not learning from its mistakes in Myanmar three years ago and for contributing to serious human rights violations in Ethiopia again.
"Three years after its staggering failures in Myanmar, Meta has once again – through its content-shaping algorithms and data-hungry business model – contributed to serious human rights abuses," Amnesty's Secretary General Agnes Callamard claimed.
The NGO's research involved examining internal documents of Meta from 2019 through 2022.
The conflict in northern Ethiopia had been escalated for two years since November 2020. The Tigray People's Liberation Front orchestrated a series of attacks on Ethiopian military bases, and the Federal Government responded with an offensive. November 2022 saw the completion of the conflict, with the Ethiopian government and Tigrayan rebels reaching a peace agreement.
You can share this story on social media: