EU donates seized military vehicles to Ghana
MEPs had asked for the armored vehicles, originally impounded in Libya, to be delivered to Ukraine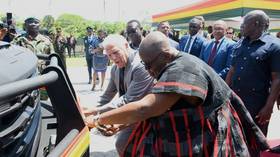 Ghana has received 105 militarized vehicles intercepted en route to Libya from the European Union. The armored cars were presented to the Ghana Armed Forces (GAF) on Saturday in the capital, Accra, by EU High Representative for Foreign Affairs and Security Policy Josep Borrell, the West African country said in a statement.
The donation was made to support Ghana's "internal and external efforts" to preserve peace and stability, as well as the EU's ongoing projects in border management and terrorism prevention in the "Sahel regions of Gulf of Guinea countries," the GAF stated.
"The 105 militarized vehicles donated were Land Cruisers Pickups, GMC Sierra, Toyota Land Cruisers, Toyota Single Cabins, Chevrolet Silverado and Sierra Pickups," it added.
While expressing confidence in the donation's benefits for Ghana and the West African region, Borrell added that "further equipment will also be delivered in the future: aerial surveillance, electronic warfare systems, and river crafts."
The EU military mission, IRINI, seized the armored vehicles from a ship off the coast of Libya in October last year for allegedly violating the UN arms embargo against the North African nation.
A shipment of 41 BATT UMG armored vehicles manufactured in the UAE was confiscated, as was another batch of more than 100 armored Toyota off-road vehicles modified to include a mounted gun.
Several reports last week claimed that a group of European Parliament members (MEPs) wanted the EU to supply Ukraine with the intercepted arms. The proposal was reportedly put forward by Dutch MEP Bart Groothuis, with the support of France's Nathalie Loiseau, the chair of the MEP defense subcommittee, and Belgium's Guy Verhofstadt.
Groothuis is cited as saying that there is no reason why the EU cannot follow the example of the US, which announced it would deliver 1.1 million rounds of ammunition seized in December to Kiev. Iran had allegedly sent the shipment impounded by the US Naval Forces Central Command to Yemen.
Washington and its allies have vowed to continue to back Ukraine against Russia until Moscow is defeated in the ongoing armed conflict. This commitment, however, has been met with challenges, including Western donors struggling to ramp up military production to keep up with Kiev's physical weapon needs.
The EU, for instance, had pledged to send one million artillery shells to Kiev by next spring, but Bloomberg reported last week that only about 30% of the promised amount had been delivered.
You can share this story on social media: