Israel evacuates embassies in Arab states
Supporters of Palestine took to the streets to protest the bombing of a hospital in Gaza on Wednesday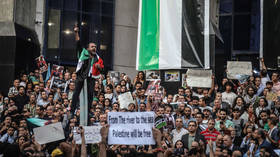 The Israeli Foreign Affairs Ministry evacuated the employees of its embassies in Rabat and Cairo on Wednesday due to pro-Palestine rallies against the backdrop of the war between Israel and Hamas.
Rallies were held in front of Israeli missions in the Egyptian and Moroccan capitals, as well as other Israeli embassies in other cities across the globe, following the bombing of Al-Ahli Hospital in the Gaza Strip that resulted in the death of at least 471 individuals and the injury of 314.
Demonstrations in support of Palestine also took place in Tunisia, Libya, Lebanon, Germany, Iraq, Türkiye, Jordan, Iran, Syria, Kuwait, and other countries in the wake of the attack. As a result, Israeli authorities have increased security measures in diplomatic missions worldwide.
Tunis, the capital of Tunisia, witnessed thousands of demonstrators protesting against Israeli attacks on the Gaza Strip. According to AFP, they accused Israel of causing the death of several hundred people by firing rockets at the hospital in Gaza.
Meanwhile, the attack was also the cause of major protests in Misrata and all major Libyan cities on October 17. Local protestors accused Arab leaders of doing nothing to aid the Palestinians.
Rallygoers called for the expulsion of ambassadors from Western countries that allegedly support the Israeli aggression against the Palestinian people. The protesters demanded that the Greenstream pipeline not be used to supply oil and gas from Libya to Europe.
According to the Israeli army and Prime Minister Benjamin Netanyahu, the hospital was hit by a rocket launched by a Palestinian militant group that veered off course.
You can share this story on social media: