UN peacekeepers step up withdrawal from Mali over security concerns
Heightened tensions in the north of the country endanger the lives of hundreds of personnel, the organization insists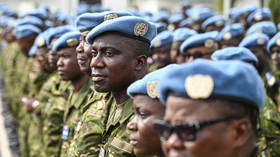 The UN has begun withdrawing peacekeeping forces from camps in Mali's northern Kidal region in response to a "rapidly deteriorating security situation," the organization has announced.
The exit of forces from the Multidimensional Integrated Stabilization Mission (MINUSMA) started on Monday from bases in Tessalit and Aguelhok, and will be followed by the Kidal camp, MINUSMA said in a statement.
"The mission is doing everything it can to complete this process as soon as possible, in the midst of the rapidly deteriorating security situation and the increased risk to the lives of hundreds of peacekeepers. This is becoming increasingly difficult," it stated.
MINUSMA additionally reported that personnel had to "seek shelter in bunkers due to an exchange of fire" in Tessalit during the evacuation process.
In a separate statement on Monday, the Malian Armed Forces (FaMa) confirmed that its aircraft coordinating the UN disengagement had been targeted with "heavy weapons fire from terrorist groups" during landing at Tessalit airport.
The plane was able to land and depart without difficulty after the "enemies" were neutralized, FaMa said, adding that "all arrangements have been made to continue the process of occupation of MINUSMA rights of way."
The UN Security Council agreed in June to complete the withdrawal of MINUSMA forces by the end of the year in response to Malian authorities' demand for a prompt end to the mission, which was launched in 2013 to counter jihadist insurgencies in the country.
However, its removal has heightened tensions in the north of Mali between the military rulers and the Coordination of Azawad Movements (CMA), a coalition of Tuareg ethnic-dominated groups seeking autonomy.
In August, the UN announced that it had expedited the evacuation of its base in the northern town of Ber, citing worsening security conditions that it claimed posed a "high risk" to its blue helmet forces stationed there. The UN mission said its convoy leaving Ber had been attacked twice, injuring three peacekeepers. FaMa also reported at the time that seven of its soldiers had been killed in clashes with the CMA group.
On Monday, MINUSMA expressed concern about the escalating tensions, warning that the mission may be forced to leave "without being able to repatriate equipment belonging to troop-contributing countries and the UN."
You can share this story on social media: