Libya flood deaths could reach 20,000 – official
Rescuers are burying victims in "three mass graves" due to a lack of time and space, a local emergency worker reported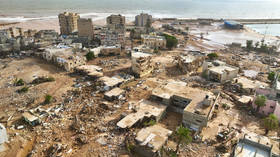 The death toll in the eastern Libyan port city of Derna following catastrophic flash flooding could reach 20,000, the local mayor told TV outlet Al Arabiya on Wednesday.
Abdulmenam al-Ghaithi said he believes between 18,000 and 20,000 people may have died, given the extent of the destruction caused by floods in a number of districts. The city's population prior to the disaster was around 125,000.
On Tuesday, authorities from the divided country's eastern government estimated that at least 5,300 people had been killed but that approximately 10,000 were still missing. The force of the Mediterranean storm 'Daniel' broke two dams in the mountains immediately above the city on Sunday, creating a deluge that swept entire neighborhoods into the sea.
Hichem Abu Chkiouat, the minister of civil aviation in the administration that runs eastern Libya, told Reuters on Wednesday that the number of dead was likely to double.
"[The] sea is constantly dumping dozens of bodies," Chkiouat told Reuters on Wednesday.
"I am not exaggerating when I say that 25% of the city has disappeared. Many, many buildings have collapsed," he said.
Spokesperson for the Interior Ministry, Lieutenant Tarek al-Kharraz, told the AFP news agency that 3,190 people had already been buried. At least 400 of those killed were foreigners, mostly from Sudan and Egypt.
Rescuers are burying the victims in "three mass graves" because of a lack of time and space to bury them individually, said Osama Ali, a spokesman for Libya's Ambulance and Emergency Center, according to a Financial Times report.
Devastating floods have claimed the lives of more than 8,000 people, according to authorities, with some estimating that the number could rise to 20,000. Warning: The following report contains highly disturbing images. pic.twitter.com/mm1Sjo7UTN

— RT (@RT_com) September 14, 2023
Teams from Egypt, Türkey, and Qatar have arrived in the North African nation to participate in ongoing search-and-rescue operations.
Since Muammar Gaddafi's NATO-backed assassination in 2011, Libya has internally collapse and been divided between two competing authorities, with the internationally recognized Government of National Unity based in the western city of Tripoli and a parallel administration in the east, where Derna is located.
In a statement on Wednesday, United Nations High Commissioner for Human Rights Volker Turk urged the political factions to "act collectively in ensuring access to relief."
The UN World Food Program announced the delivery of its first shipment of food aid to Libya, where it already assists more than 52,000 people, including internally displaced people, returnees, and migrants in urban areas.
On Tuesday, UN Emergency Relief Coordinator Martin Griffiths said a fund of $10 million had been set aside to assist those impacted by floods.
You can share this story on social media: