Scores of soldiers and volunteers die in Burkina Faso attack
Militants attacked security forces during a state operation to retake a town in Yatenga province, the army reports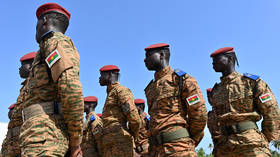 Authorities in Burkina Faso have claimed that 53 members of its security forces and dozens of others have been killed in "intense" fighting with suspected jihadists in the northern part of the West African country.
The casualties include 17 soldiers and 36 volunteer fighters, the Burkina Faso Armed Forces said in a statement on Tuesday, adding that about 30 others were injured. Ouagadougou also reported neutralizing dozens of attackers.
The clashes occurred on Monday in Yatenga province during a national forces operation to retake the town of Koumbri "to allow the resettlement" of residents who had been displaced "for more than two years," according to the army general staff.
"During its progression, [the 12th Commando Infantry Regiment] experienced several incidents and harassment fire... The bravery and determination of our fighters made it possible to put up fierce resistance, repel the attack, and neutralize several dozen terrorists," it added.
The nation in the Sahel region has been battling an Islamist insurgency since 2015, thought to have spread from neighboring Mali and which, the United Nations says, has killed thousands of people and forced the displacement of nearly two million more.
Burkina Faso's military government announced a "general mobilization" in April as part of an effort to recapture 40% of the national territory, which it lost to armed groups.
The move came after Paris withdrew its troops and ended operations in the West African country on the orders of its military rulers, amid claims that the French army had failed to fight the jihadist insurgency.
The former French colony has increasingly relied on the support of the Volunteers for the Defense of the Homeland (VDH), civilian auxiliaries of the national army legally created in 2020, in the fight against violent militancy.
Last Saturday, the army announced that four VDH officers and a police officer were killed in an attack in Silmiougou, a city in the country's center. In April, 34 volunteer fighters died in a raid.
You can share this story on social media: