Religious leader warns Biden against 'satanic act'
The leader of Nigeria's INRI Evangelical Spiritual Church has warned the US of grave consequences if it invades Niger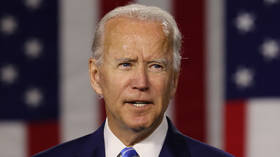 A Nigerian cleric, Primate Elijah Ayodele, has warned US President Joe Biden against ordering a military strike in coup-torn Niger, saying that any such "satanic and terrorist move" will attract God's anger.
Ayodele, the leader of the INRI Evangelical Spiritual Church, made the statement on Wednesday after Niger's ousted president, Mohamed Bazoum, reportedly asked Washington to intervene in defeating the military government that seized power last month.
In a press release published on several local media outlets, the religious leader said, "US involvement is just a means to enslave the people of Niger Republic" and to start a "third world war, which God is against."
Ayodele insisted that invading the West African country would also "discredit" Biden and destroy his government.
Niger's new military government has defied regional and international calls to release and reinstate Bazoum, who has been detained since the July 26 coup.
France, Germany, and the US have all cut development aid to Niamey in order to force the coup plotters to restore constitutional order.
Last Thursday, Biden demanded that Bazoum and his family be released immediately, claiming that Nigeriens made him president "through free and fair elections."
Though the White House has not announced any military action, US Secretary of State Antony Blinken has stated that Washington supports the efforts of the West African power ECOWAS, which has threatened to use force to restore democratic order in Niger.
The 15-nation regional bloc has imposed sanctions on Niamey, and a plan to intervene militarily in the political crisis has also been finalized. Its leaders gathered on Thursday in Nigeria's capital, Abuja, to mull over the crisis in Niger after a one-week deadline for the military government to undo the coup expired four days ago.
Primate Ayodele believes that using force against the putschists in an attempt to reverse the coup will result in the assassination of the overthrown president.
"Leave Niger to decide their future. Going to fight in Niger is like fighting God. [The] US will pay heavily for it if the invasion happens," he warned.
You can share this story on social media: