West failed to derail Russia-Africa forum – organizers
Despite pressure on delegates, the event attracted thousands of attendees and produced dozens of agreements, Roscongress has claimed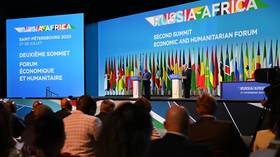 Last week, Russia hosted a high-profile international event which was attended by dozens of delegations from African nations. The gathering in St. Petersburg was the second of its kind and was focused on developing Moscow's diplomatic, commercial, and humanitarian relations with the guest nations.
Roscongress, the government agency that organized the Russia-Africa forum, deemed it a resounding success on Monday, as it assessed the gathering.
Unprecedented pressure
The event in Russia went as planned "despite unprecedented pressure from the West," the statement announced.
Washington and its allies are seeking to isolate Moscow internationally, claiming that it should be punished for the conflict in Ukraine. Although supported by members of NATO and countries such as Japan and South Korea, which host US troops, many other nations have maintained a neutral stance.
Guests and hosts
The two-day forum was attended by official delegations from 48 countries, most of them led by heads of state or second-ranking national officials. The five largest integration associations on the continent were also represented, Roscongress pointed out.
It estimated total participation at 9,000, with nationals from 104 foreign states and territories attending various forum events. The figure included roughly 1,000 foreign business people and 1,100 foreign officials, as well as 2,000 entrepreneurs and 750 public servants from the host nation. More than 2,000 people attended from various media organizations.
Agenda
Senior officials at the forum signed four key declarations, a four-year action plan and two memoranda of understanding between Russia and African regional blocs.
On top of that, 161 non-secret agreements were sealed at the summit. Most of them were on intergovernmental cooperation, education, tech sharing, and international trade, the statement reported.
"This year, the discussions of the Economic and Humanitarian Forum were full of practical proposals, particularly in the humanitarian and technological fields, and generated significant interest from representatives of business and the scientific community," said Anton Kobyakov, the executive secretary of the summit organizing committee.
A total of 59 panel sessions were held at the forum with 457 speakers participating.
Sports
The gathering included an extensive sports and cultural program. One of the key moments for Russia was the formal announcement of the Friendship Games, which will be held next September in Moscow and Yekaterinburg.
Some commentators have compared the current standoff in sports to the Cold War era boycotts of Olympic Games by both the Western and Soviet blocs. Moscow is touting its upcoming international Friendship Games as highlighting the unifying ideals of sports and taking political agendas out of the activity.
Russian athletes have been broadly penalized by international athletic organizations as part of the Western sanctions campaign. An initial full ban was mostly replaced this year with a requirement for Russians to compete under a neutral flag. Russian citizens must also pass strict screening of their position on the Ukraine conflict. Moscow considers the restrictions discriminatory and politically motivated.
Sporting events on the sidelines of the forum included a five-kilometer run, a multi-day 1,000-km cycling race around Lake Ladoga, a football festival featuring a gala match between teams of Russian and African stars, and a stage of the Russian beach volleyball championship.
African festivals
On the cultural side, a festival of African contemporary art and cuisine, a film festival showcasing works by African filmmakers, and a Rhythms of Africa street concert, where audiences could see performances by African bands and Russian musicians playing African music, were held across St. Petersburg.
The forum also hosted over 50 exhibitions dedicated to various aspects of Russian cooperation with African nations while a collective exhibition was prepared by African countries to present their national achievements.
You can share this story on social media: